The world lost a big personality on January 16 with the unexpected passing of Patrick Lawrence Gostley. Pat lived in Florida for many years and recently returned to Wellsville with his work, allowing him to be closer to family because caring for his mom was his priority. He was the loving son of Shirley and the late John, and brother to Holly, Laurie, Greg, Pam and Teri, who passed away in 1995. Pat was just 54 years old but when he left us, but his heart was peaceful and happy.   Pat was known to all as the one who was always ready….with a funny story, a new business idea, or to get together with friends. A true entrepreneur, Pat's creative spirit, optimistic outlook, and Irish gift of gab were his trademark qualities. You always knew when Pat was in the room!   A 1980 graduate of Wellsville High School, Pat excelled in sports and especially enjoyed playing football. He was active in many school activities including student council and band, and truly embraced his high school experience. He went on to play football at Canisius College and then moved to Florida to begin his career in finance and business development.   Pat was a securities broker from 1984 to 1987. He then joined University Consultants where he specialized in business plan research and development stage companies. Four years later, Pat began his entrepreneurial career when he starting Rx Automation, which was acquired in 1996 and is now a NASDAQ listed company. Following the sale of his first startup, Pat spent the next several years as an independent finance and acquisition consultant, and was featured in Fortune Magazine as a rising entrepreneur. In 2003, he co-founded Markus Financial Group then in 2008, Pat founded Business Blueprints LLC. His most recent passion was Imprompt2 – and his enthusiasm, determination and focus on the company and the app that was about to be launched was inspiring.    Pat leaves behind his mother, Shirley Colligan Gostley of Wellsville and his siblings: Holly (Bruce) Massengale of Kansas City; Laurie Hackett of Bethlehem, PA; Greg of Wellsville and Pam Reed of Wellsville. In addition, he is survived by his Uncle Don and Aunt Brenda Colligan and Uncle Jim and Aunt Carole Gostley; cousin and dear friends Tim and Suzy Colligan, and many other Colligan, Kensek and Gostley cousins. Pat will also be dearly missed by his nieces and nephews John and Brian Massengale, Cara and Grady Hackett, Kaitlin and Jon Kyle Gostley, Christina Reed Ostrander, Laura Reed Aylor, and Danny Reed, Beth and Tim Haaf, as well as Quinn, Ava, Sloan, Zia, Hannah and Baby M.     If you were a friend to Pat, you were a friend for life, and "Ghost" was blessed with a loyal posse: Tim Hennessy, Kevin Caschera, Pat Hart, Al Davidson, Brad Seligman, Dean Piscitelli, Mitch McQueen, and Mark Degraff.     Pat's life should be celebrated because he loved his family, lived life to the fullest, and had no regrets.     Friends may call at Embser Funeral Home in Wellsville on Friday, January 22 from 5p.m. to 8p.m. A Memorial Mass of Christian Burial will be held at Immaculate Conception Church on Saturday, January 23 at 1:30 p.m.     In lieu of flowers, donations can be made to Wellsville High School (126 W. State Street, Wellsville NY 14895 attn: Lenore Braunscheidel) where a scholarship has been established in Patrick's name.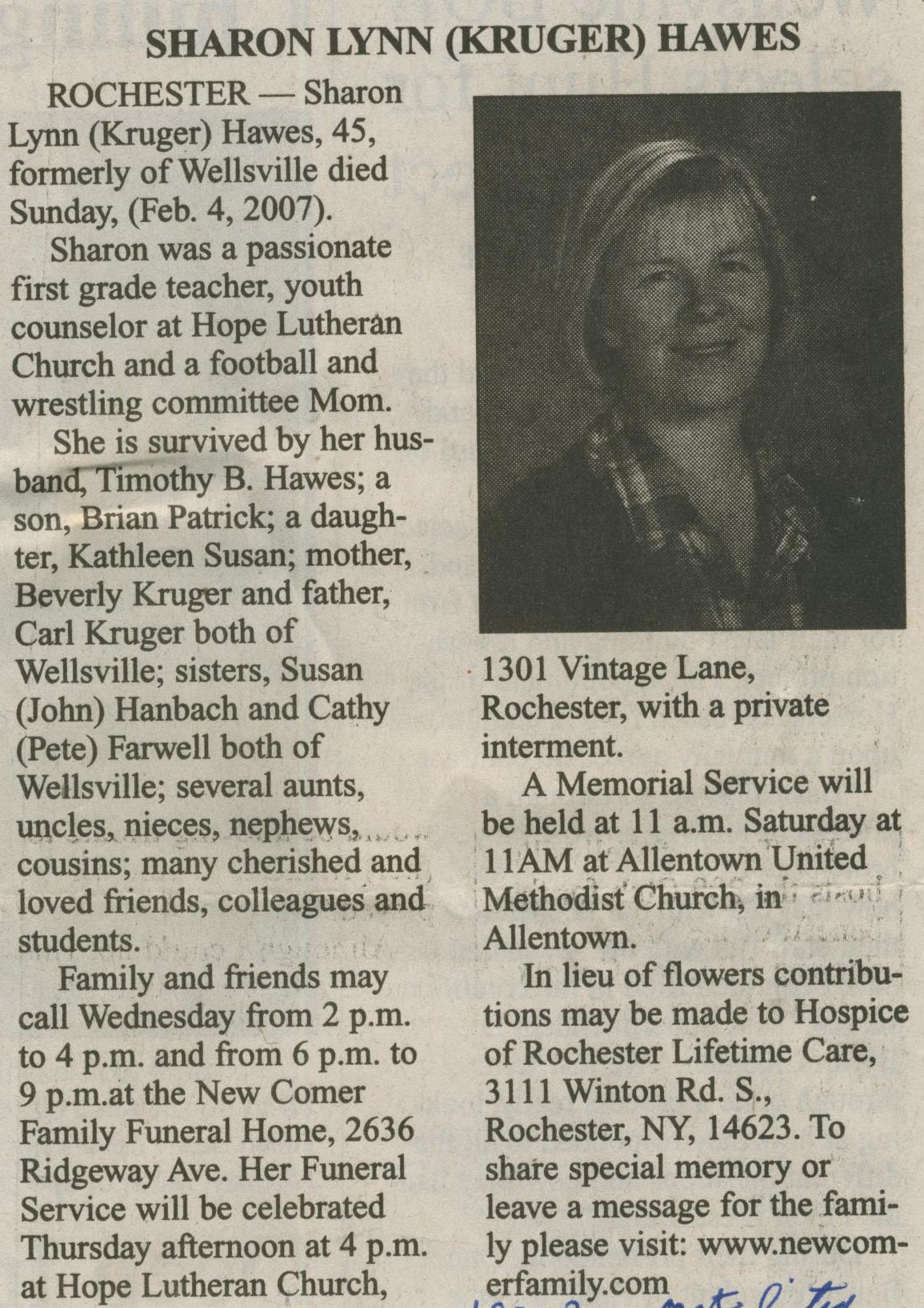 Stephen A. Wright, 50, of 341 South Main Street died Thursday, January 3, 2013 at the Comfort House of Allegany County" The Hart House". He was born January 18, 1962 in Wellsville the son of the late John P. and Sybil "Betty" (Burton) Wright.
Steve was a 1980 graduate of Wellsville High School and a 1995 graduate of Alfred State College. He was a veteran of the U.S. Army and Army Reserves serving with the Combat Engineers. He was employed at Bells Market in Wellsville for seven years and for various other industrial employers in the area. For the past 15 years he was employed at Hi-Tech Ceramics in Alfred. He attended the Seventh Day Baptist Church in Alfred Station.
He is survived by a daughter, Kimberly S. Wright of Randolph, three brothers, Philip (Mary Jane) Wright of Rochester, Charles (Betsy) Wright of Baldwinsville and Paul Wright of Pearl River, two sisters, Sybil "Bonnie" Wright of Whittier, CA and Stacie (Kevin) Bacon of Wellsville, as well as several nieces & nephews. He was predeceased by a brother, Anthony J. Wright in 2009.
Friends are invited to a memorial service on Sunday, January 6, at 4 pm at the Seventh Day Baptist Church in Alfred Station with Rev. Kenneth Chroniger and Rev. Michael Brady presiding. There will be no prior visitation. Burial will be in Sacred Heart Cemetery in Wellsville. In lieu of flowers memorial donations can be made to the Comfort House of Allegany County, 141 East State Street Wellsville, NY
Patrick B. Quinn, a 1980 graduate of Wellsville High School, passed away April 30 at his home in Tucson, Ariz., after a courageous one-year battle with leukemia. He was 52.
Following high school, Patrick entered the U.S. Air Force, serving 12 years as a crew chief for F-16 fighter jets. He then joined the U.S. Air Force Reserve while pursuing a master's degree in exercise physiology at Utah State University. Upon graduation, he worked at the Cooper Institute for Aerobics Research in Dallas, Texas, as well as in the cardiac rehab field in Raleigh, N.C., and Tucson.
In Tucson, Patrick returned to his passion for working on F-16s, joining the Arizona Air National Guard, where he rose to the rank of Master Sergeant. As a production controller, he was responsible for coordinating F-16 maintenance and reporting the status of all aircraft to the senior officers in his squadron. Patrick had a combined 28 years of service in the U.S. Air Force, U.S. Air Force Reserve, and Arizona Air National Guard. He was also a certified home inspector.
Patrick is survived by his wife, Vanessa (Lo) Quinn; two young sons, Nolan, 10, and Bryan, 8; his parents, George and Kathleen Quinn of Winnabow, N.C.; a sister, Ellen (Quinn) Serrano, of Raleigh, N.C.; brothers Michael Quinn of Wellsville, Timothy Quinn of Batavia, N.Y., Daniel Quinn of Anchorage, Alaska, and David Quinn, of Webster, N.Y.; as well as several nieces and nephews.
Patrick will be remembered as a loving and doting family man, accomplished airman, and caring friend. He will be dearly missed as a father, husband, son, brother, and uncle.
A memorial mass for family and friends will be held at 2 p.m. June 27 at the Immaculate Conception Catholic Church on Maple Avenue in Wellsville. In lieu of flowers, donations may be made to Tu Nidito Children and Family Services at www.tunidito.org. To leave on line condolences please visit www.embserfuneralhome.com.