HISTORY OF WELLSVILLE SCHOOLS
---
The following article appeared in the Special Centennial Issue of the Owl in June of 1984 and was written by Paul K. Stockman, editor.
Local education dates to 1814
Education in Wellsville dates to 1814 when, according to the 1860 Historical and Statistical Gazetteer of New York. Ithamer Brookings taught a school near present-day Elm Valley.
Schools of the time were most frequently supported by private subscription; that is, parents banded together and hired a schoolteacher, most often an unmarried young lady to teach their children. The curriculum at the lime was not sophisticated; instruction was limited to reading, writing, spelling, and arithmetic to division or maybe calculation of interest, Pay was in the form of produce or services. Every student, in addition, was required to help with manual tasks, especially cutting firewood. Schoolhouses were often the first public meeting-places in these frontier settlements.
State controls education in 1812
In 1812 New York Stale passed its first public education law, establishing the district school as the basic unit of free public instruction. Each county's educational establishment was overseen by three elected school commissioners who divided the county into districts.
Citizens residing in each district were empowered to select three trustees to oversee the local school. Further legislation in 1814 gave each district the power to levy taxes. Further assistance was given from state "library funds" and from the treasuries of wealthy local benefactors.
In 1895 there were ten such local school districts in The Town of Wellsville. In addition to five joint districts, that is, districts shared between towns. Furthermore, there were 12 schoolhouses within the town boundaries.
All of these, however, were eventually absorbed by the one district from which the present Wellsville Central School system evolved – Wellsville District Number One.
WCS starts in 1832
Wellsville Central Schools traces Its origin to 1832. At the annual meeting of the Town of Scio, of which Wellsville was then a part, held that year
in Wellsville, the settlers resolved to establish a school. They erected a log schoolhouse that same year on the northeast corner of Main and State Streets, on me sue most recently occupied by the Mayo-Jones Redemption Center.
The new schoolhouse was built, it is reported,in the Pennsylvania Dutch fashion, with the stone fireplace constituting one wall. Miss Huldah Hall
was hired to leach in this structure and, DeBeer's History of Albany County reports, "it is but.justice to stale that she showed neither lear nor favor" in teaching her students the "three R's" and good manners. This school building was also used as the first place of worship in the town of Scio.
A second schoolhouse was begun In 1835, and was located on the southwest corner of Broad and Mill (now Fassett) Streets. This building was occupied in 1837. The old school building was moved to another site and burned in one of the "Great Fires" of 1867.
Locomotive ignites school
The second school was only in use for five years before it was ignited in 1842 by a spark from a locomotive on the railroad being built alongside and burned to the ground.
In order to provide a new school, the "Trustees of School District No. 8 of the Town of Scio" purchased for $500 on August 4, 1845 a parcel of land on Main Street, where the David A. Howe Library now stands. At the time, that location was considered "out In the country in the woods."
since there were only three houses between it and Ambrose Coals' residence on the site of the present Country Club.
Trustees Harmon VanBuren. David Jones and Myron Fuller hired Hamilton Shaw to leach in this schoolhouse, which was a typical one-room school popular at the lime.
This building had become overcrowded by 1858, however. Thus, on April 12, 1859, a new building was authorized, at a cost of $1868.50.
This wood frame building, the first to have more than one classroom, was completed on December 16, 1859.
November 16, 1859, the townspeople of the newly-created Town and Village of Wellsville voted 72-33 to create, in accordance with the laws of
New York, the Wellsville Union Free School District, and elected a Board of Education to take the place of the trustees. Members of Wellsville's first Board of Education were: Charles Collins, Hiram York., H. M. Sheerar, G. W. Russell, William Peebles, W. M. Coats, Edmund Baldwi, W.S. Johnson and I.W. Fassett.
Board creates Union Free District
This newly reorganized school opened January 16,1860 for a 42-week school year. 209 pupils were registered, and the faculty of four received an aggregate salary of $1000. Professor A.C. Spicer, from Milton, Wisconsin, was hired as first principal of the new school. He was assisted by his wife, who also taught "language." The intermediate grades were taught by Mrs. Thomas L. Smith, and Loretta A. Wildman instructed the youngest pupils.
THE FOURTH BUILDING to house Wellsville District No.1 is pictured here. It was constructed in 1859 and burned in 1876.
The first students to complete the new curriculum were graduated in 1863. A program of essays and recitations was held, and each of the five graduating students received a card, signed on June 3, 1663 by Prof. A.W. Lewis and Board President W. M. Coats, stating that they had completed the school's required course of study. The first graduates were Isaac Fassett, Richard Lee, Mary F. Coals, Diadanna Miller and Addie L. Thornton.
The school was, on April 1, 1665, incorporated by special legislative act. and all the Board's previous actions were rallied.
'Graded School' burns
This school, known as the "Wellsville Graded School," caught fire at 4:30 on the morning of Sunday. February 27, 1876. The alarm was feeble, but the response was quick, with three fire companies arriving to see it go up in flames. Destruction was total, with a loss of $5000-$6000. The building was insured for $3000, with an additional policy of $250 covering the library and a piano. Origin of the fire was unknown, with no suspicion of foul play.
A new building, known as the Wellsville Free Academy, was constructed on the same site, and was occupied that November. Cost was $6000, including a furnace and other school equipment. Five teachers served the 206 registered pupils. Faculty in 1879 were: C.B. Macken, principal;
Mrs. J.S. Bingham, assistant; Mrs. George Elwell and Jennie Thornton, intermediate and Mary Beecher, primary. The year's payroll amounted Io
$1820.
Regents charter Wellsville school
Perhaps the greatest change in the history of the Wellsville schools look place on April 3, 1882, when the Board of Education voted to establish an Academic Department under the supervision of the Regents of the University of the Stale of New York.
There was significant opposition to the motion, since, in order to qualify for Regents accreditation and a monetary appropriation, it would be necessary to establish a library and purchase scientific apparatus. The motion passed 7-2, with Board members A.O. Very, James Thornton, J. H. Pearsall. G.W, Pierce. Mrs. B.C. Rude. L. S. Anderson and Mrs. T. P. Otis voting 'aye." and Dr. M. Macken and W.W. Nichols opposing the measure. The motion became effective July 1, 1882.
J. L. Burrilt was named principal of the new Wellsville Union School Academy June 3, 1882 at a salary of $1000. He completely reorganized the course of instruction to bring it into conformity with Regents requirements. His salary was raised to $1250 May 7, 1883, and was further raised July 1, 1884 to $1500.
Other faculty members were as follows: Carrie Coats, first assistant; Mrs. J.S. Bingham, grammar department; Mrs Addie T. Elwell and Sarah York, intermediate and Bridget Shaugnessy, primary.
1885 sees first WHS graduation
December 18, 1884, between 9 and 10a.m., Mrs. Elwell discovered smoke coming through her first floor classroom. Professor Burritt gave the alarm and students made an orderly exit. The fire department made a quick response, and damage was minor. In fact, Professor Burritt noted in that day's Wellsville Daily Reporter that the major damage was to schoolbooks thrown in the snow in the escape. Investigation revealed that the furnace was mounted too near the floorboards above, or was insufficiently protected.
Curtis M. Harding of Canton, Pennsylvania, was hired as assistant principal, at a salary of $600, December 1, 1884. He became principal December 18, 1885 upon the resignation of Professor Burritt. He reportedly "conducted this school for a number of years and to his genial nature, deportment, energy and personal magnetism, is largely due its success." Coming from Pennsylvania, he had not taken Regents examinations, and earned a Regents diploma himself, graduating with the class of 1888.
Nine graduate in 1885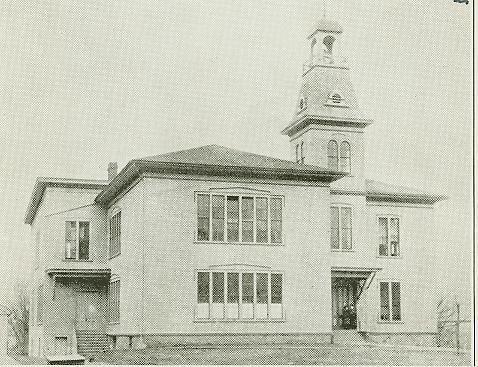 The first high school graduation was held in June, 1885 at the Methodist Episcopal Church, the site of which is now the Christian Temple parking lot on the corner of Maple Avenue and Cummings Place.
The first diploma, however, was awarded September 1, 1884 to Grace M. Pierce. Other members of the class of 1885 were Mattie Brown, George Carpenter, May Carpenter, Fanny Hall, Carroll Hoyt, Claude Scott, William F. Wilson and Fanny York.
The Wellsville Free academy was built in 1876. The first regents class, the Class of 1885, attended this building
In 1885 a new addition was made to the high school building, and a new heating and ventilating system installed at a cost of $5575. Following Professor Burritt's resignation, and Professor Harding's selection as principal, a Mrs. Hallock was named assistant, succeeded in 1886 by E. M. Lake, followed by a Professor Noll.
Fire destroys Academy in 1891
Wellsville Academy, however, burned to the ground on April 9, 1891. The fire's cause was unknown, but was believed to have started around 4:45 p.m. in the basement closets in the southeast corner of the building. Misses Shaugnessy and Moore discovered the blaze and sounded the alarm.
Response was prompt, but the fire spread quickly. The building was totally engulfed within ten minutes of the fire's discovery, its fury aided by the open staircase up to the bell tower and the ventilating flues.
In fact, the janitor, a Mr. Parish, was cleaning on the first floor and barely had time to pick up his street clothes. Only the Regents records and some furniture were saved. A faculty meeting was in progress on the upper floor at the time, and so many teachers were unable to return to their rooms.
The fire quickly spread, and also destroyed a house behind the school owned by the Congregational Church and occupied by a Mrs. McClure. The heat from the fire was so intense, in fact, that some of the ornamental woodwork adorning one of the spires of the adjacent Congregational Church caught fire. That small blaze was extinguished by Will Bannister with a pail and dipper. For this heroic act, the large crowd watching the fire greeted him with applause. A barn owned by David Jones and a frame building on Pearl Street also caught fire.
Blaze threatens business district
Officials at the time considered it fortunate that the wind was blowing toward the river at the time of the fire. Had it been blowing down Main Street, it was likely that the fire would have spread further, possibly destroying a large part of the downtown business and residential section.
The building was a total loss, including the library and scientific apparatus, valued at $2000. "The skeleton went up in smoke or down to the ashes, properly cremated and these weary bones are at rest." The building was insured for $10,000.
After the fire, classes were first held in the German Lutheran schoolhouse, but, since this proved too small, the Masonic Temple was secured for use.
Built in 1892, the next schoolhouse cost around $30,000. To avoid the fire hazard, brick and stone were used in the construction of this spired edifice. The building contained grade and recitation rooms, a laboratory furnished with desks, gas and water for individual experimentation, a library and an auditorium capable of seating 650. There were no shops or gymnasium, however.
WHS grows, prospers in 1900's
Alumni decree orange and black
On April 15, 1894, a meeting of the Wellsville Academy Alumni Association declared that the Wellsville school colors were to be orange and black. Prior to that, each class had its own individual colors.
There were 559 students registered for the 1894-5 school year. 127 were in high school and 111 were non-residents. The cost of maintaining the school in 1896 was $10,000. $6,000 of this was for teachers' salaries.
Fire broke out in the fourth floor chemical laboratory on the morning of February 8, 1897. A leaking gas hose was blamed for the blaze, which did $250 damage and flooded the fourth grade classroom. Classes resumed that afternoon, however.
Samuel J. Slawson was named principal on April 11, 1901. During his tenure, in 1905. the building was extensively remodeled.
Craig assumes principalship
Professor Lewis W. Craig was named principal and teacher of Latin and Greek in 1893. Professor Craig was a native of Maine and an alumnus of Wesleyan College. He had a great respect for knowledge, especially that of Latin, and was a stern man. He had no sense of humor , and was not opposed to corporal punishment. He reportedly would have considered himself undressed without his Phi Beta Kappa key.
Charles E. Bryant was named his assistant and teacher of math and science. Miss Louie E. Sackett taught history and the teacher training class and Mary E. Fassett instructed in language and literature. Grade school teachers were as follows:
– Ella lone Foster, eighth grade
– M. Adell Fuller, seventh grade
– Mary S. Wilcox, sixth grade
– Addie T. Elwell, fifth grade
– Sarah Plain, fifth grade extra
– Charlotte B. Booth, fourth grade
– Nellie E. Devore, third grade
– Bridget Shaugnessy, second grade
– Kate Day, first grade
– Cora E.C, Harrington, unruly/pupils
Elba Childs was engaged in 1893-4 to instruct students in the "winged art," stenography, and in typewriting at a cost of $7 per term. Persons 16 or older preparing to teach in New York State could take a free teacher training class. Completion of this course constituted certification for teaching.
Frats, Owl invade WHS
In 1902, the Psi chapter of the fraternity Theta Phi was established at WHS. Fraternities in high school, though rare now, were common then. Members sponsored such activities as dances, hayrides and, on an intellectual note, debates. They were frequently criticized for elitism, but were nonetheless allowed to survive. For the use and enjoyment of its members, Theta Phi rented a clubroom in a business block downtown. In 1905 a second fraternity, Tau Kappa Phi, was founded.
In addition, three sororities were active at various times at WHS. The first. Gamma Eta Pi, was active in the early 1900's. Psi chapter of Kappa Epsilon superseded it in 1907. A third sorority, Adelphia, was started in 1931 and lasted a few years. For the most part, however, fraternities and sororities at WHS declined and disappeared between 1910 and 1920.
The Owl, the oldest school newspaper in New York still publishing, was founded in 1904. At this time it was published in a magazine format, and included short stories, poetry, and other literary selections. The Owl ceased publication between 1911 and 1922, and switched to a newspaper format in 1929. The Owl Hall of Fame, honoring seniors active in extracurricular activities, was started in 1928 and the Inquiring Reporter feature made its debut in the May, 1938 issue.
Wellsville High burns twice
1909 sees school burn
Fire again struck WHS on Sunday morning, October 17. 1909. The fire began on the fourth floor, and had a good start when it was discovered by a Mrs. Junker as she crossed Pearl Street Bridge at around 8 a.m. and noticed flames shooting from the rear windows of the upper floor.
The fire quickly spread to the laboratory, where exploding chemicals helped fuel it. The roof and upper floor were totally destroyed, and the third floor was heavily damaged. Unburnt parts of the building suffered heavy water damage.
Origin of the fire was unknown. The furnaces had been extinguished Friday afternoon, and the only fire in the building was in a small gas stove used to keep the chemicals in the laboratory from freezing. The corner of the lab where the stove sat, however, was the only part of the top floor that remained unburnt.
Damage was estimated at $25,000, and was covered by a $20,000 policy on the building and a $5200 policy on the contents.
Remodeled school reopens
Since the building was still structurally sound, it was decided to rebuild the school instead of spending the money to build a new one. While repairs were underway, students used rooms in the old City Hall (located next to the First Trust Bank where Madison Street now runs), and in business blocks downtown. The new school was reoccupied in September, 1910.
In 1922, at the request of the Board of Education, George F. Jammer resigned his position as engineer at Kerr Turbine (now McGraw-Edison Turbodyne) to become principal of WHS, thus becoming the only person drafted into teaching in Wellsville. He was a native of Trenton, New Jersey and attended Bucknell University, Columbia University and Harvard University.
In 1923, at the request of the student body, a daylight savings plan was instituted at WHS. Under this plan, students would start school an hour earlier and be dismissed an hour earlier to allow for greater enjoyment of spring sunshine.
Pyro torches school in '24
Fire again struck Wellsville High on November 25, 1924. The "massive high school building," except for 20 feet of the front wall, was totally destroyed. The fire was discovered at 1:20 a.m. by Earl O'Dell, film operator at the Babcock Theater, who saw smoke in the street while returning from a lunchroom. Officer McNulty, of the local police force, also discovered the fire, and ran to the City Hall to sound the alarm. Three more alarms would later be sounded, with Scio and Andover coming to aid.
Origin of the fire was unknown, but was thought to be arson, since there had been five other suspicious fires that week. The janitor, Fred Harvey, banked the fires and left at 4 p.m., when Fred Chalker, the evening janitor, came in. There was a PTA meeting that night, so Principal George Jammer and Fred the janitor didn't leave until after10 p.m. Officer McNulty checked the building at 12:30, and found nothing, yet within an hour a fire was raging.
Office records, desks and instruments from the mechanical drawing room, and some furniture from the front of the building were saved, but all else was a total loss. There was also one other notable loss-the death of "prominent citizen" Whitfield Carpenter, who had a heart attack while watching the fire.
The Congregational Church, the Methodist Church and other buildings were pressed into service until another facility could be constructed.
There were many arguments and public debates on the new school building. Several people wanted to erect a new building on the same Main Street site, while others desired a new site, arguing that there was not enough space per student on the old site to conform to Regents requirements.
Finally, after four public votes, on July 31, 1925, purchase of the present high school site, known as the "State Street site," was approved by voters 816-622. A crowd waited around the polls and, when the results were announced, let up a great cheer, paraded through town, and set off firecrackers to celebrate
Important Regulations
All pupils must present written excuses from parents or guardians in every case of absence or tardiness, stating definitely the reason.
At the noon dismissal all pupils must leave the building at once. Those bringing lunch may report to the gymnasium for the noon hour in charge of a teacher. The building will be open again to pupils at 12:55.
Smoking in the school building or on the school grounds is absolutely forbidden.
Any arrangements for the use of the gymnasium, cooking room or any part of the high school building must he made in advance with the principal.
Each class shall elect a faculty advisor to whom must be submitted all plans for class activities before definite action is taken to carry out those plans.
When pupils arrive at the school they must report at once to their homeroom. Congregating in groups in the hall before school is forbidden due to the congestion which results in such cases.
Any pupil wishing to maintain a position on any athletic team must have a passing grade of 65% In all subjects and maintain acceptable conduct.
All library permits for the morning or afternoon session must be obtained before school and will be issued for a full class period only. All permits must be returned to the file on the desk in the study hall.
Excuses issued by the principal must he sighed by each teacher from whose class the pupil has been absent and returned to the homeroom teacher at the close of the day. After an absence pupils must obtain their excuses from the office immediately.
A demerit system will be in use. Pupils may receive demerits for illegal absence, illegal tardiness, or for misconduct. Any pupil receiving ten demerits in a half year will be suspended.
Staff Members
HIGH SCHOOL BUILDING
George F. Jammer, B.S………………….Principal H. S.
M. Louise Myei, A.B……………..………………History
Bernice L. Weir, A.B. …………………………..English
Mary A. Close………………..………. English, History
Blanche Walchli……………..……………………French
Eva M. Cortevllle, B.S…………………………..Biology
Floy S. Lish, A.B…………………..……..Mathematics
Mabel A. Lewis……………………………Commercial
Dorothea I. Woods………………………….Coinmercial
Bernice E. Gigee………………..……..……….Shortand
Mabel E. Bertgerson, M.A…………………….…….Latin
Florence I. Spencer, A.B…………… English, Civics
Lieta M. French…………………..Domestic Science
Donald M. Keagle…………………………. Vocational
John Allan …………………………………..Vocational
Nettle K. Booth, Prin. Jr. High School………Algebra
Ethel H. Kralinger…………………Junior High School
Alice E. Bird………………..………Junior High School
Elizabeth Ostrander, A.B………..Junior High School
Alice Davldson … …………………Junior High School
Florence M. Maddren…………… Junior High School
SCHOOL NO. 2—BROOKLYN
Anna Hejrerty, Principal…………….………….Grade 6
Agatha Galiman……………………………….Grade 1
Jessie Plillllps …………………………………….Grade 2
Jane Northruo ………………….………………..Grade 4
Gertrude McBrlde …………..…………………..Grade 5
SCHOOL NO. 3—HANOVER
Myna B. Ault, Principal…………….……………Grade 1
Katherine Poising ………………..…………….Grade 2
Ethel Bluestone …………….………… ……Grades 3-4
Mabel Stout ………………….………………….Grade 5
Vera Keaffle ……………………………………….Grade 6
SCHOOL NO. 4— MARTIN
Julia G. Hoey, Principal……………..……………Grade 2
Kathryn M. Young………………..………………Grade 1
Nina Hammond………….…………………………Grade 3
Helen M. Coyle…………………………… ………Grade 4
M. May Mapes…………………………………..Grade 5
M. Esther Byrnes…… ………………….………Grade 6
Present high school built in 1926
Voters approve new school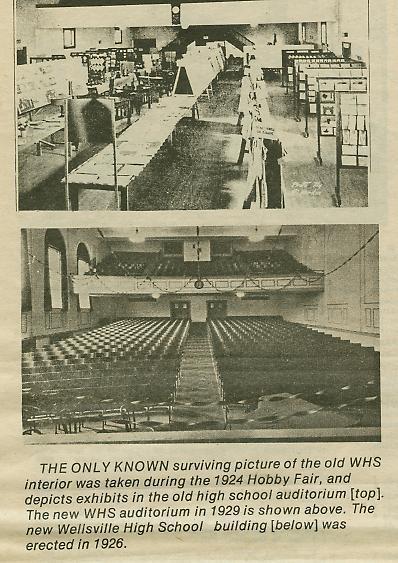 October 9, 1926 the Board approved plans for October 9, 1926 the Board approved plans for the new school, and voted an expenditure of $445,000. Plans for the new WHS edifice specified: that the building measure 2067″ by 140'7″, enclosing 1,072,064 cubic feet.
The fireproof building was designed to accommodate 900 students; Brooklyn Elementary School was housed on the lower floor.
Thirty-four classrooms were in the original plan, as well as two large study halls, and an auditorium seating 824.
In addition, the new WHS contained a gymnasium, the first one included in a Wellsville school building. Prior to the construction of this structure, WHS athletic contests were held in the large common room on the third floor of the old City Hall.
This new high school building, the one currently serving as Wellsville High School, was completed and occupied in September, 1927.
WHS faculty members in 1928 founded the Wellsville Chapter, number 703, of the National Honor Society, to honor outstanding students.
Student Council adopts arms
In 1931, the present coat of arms, two lions supporting a quartered shield on which are depicted a clasped hand for sportsmanship, a winged foot for athletics, an open book for scholastic merit and a laurel wreath for crowning achievement, was adopted by Student Council. The school motto, Carpe Diem, meaning "Gather the days" or "Seize the opportunity" was also adopted at this time.
WHS sports teams were first termed "Lions" in 1932. Prior to that, we were known as the "Orangemen" or the "Orange and Black." The name "Lions" was introduced by the Owl in its March issue, and was suggested to the staff by the two lions on the then-new coat of arms. The name, however, was slow to catch on; WHS teams were referred to as the "Orangemen" and the "Orange and Black" even after 1950.
The first Senior Prom was held April 20, l934 at Wellsville Country Club. Press White's Orchestra provided music for the evening, opening the dance with "The Boulevard of Broken Dreams" and continuing with other hits of the day. The Prom was a "consolation prize," though, since it was offered in place of the traditional senior trip to Washington D.C.
Improvements were made in the school building in 1935. Locker rooms were moved, and the agriculture students occupied the larger quarters vacated by the move. The old ag shop was soundproofed and converted into a music rehearsal room, and the library was enlarged.
A scarlet fever outbreak in 1936 aroused the a concern of local officials. Twenty seven cases were reported in Wellsville, and fears of spreading the epidemic prompted Superintendent Jammer to postpone athletic contests. There were fears that the quarantine on public meetings imposed by the Village Health Board would force postponement of January Regents exams until June.
As enrollment steadily increased, the facilities at WHS were being taxed. By the late 1930's, the overcrowding was severe . To relieve this congestion, the Board of Education voted on September 2, 1938 to build a new Brooklyn Elementary School facing Brooklyn Avenue on school property, at a cost of $211,000 to contain 13 classrooms.
The rooms formerly used for elementary students were thus freed for the junior high. It is interesting to note that a large share of construction costs for this building were covered by a grant from the Public Works Administration, one of President F.D. Roosevelt's "New Deal" programs.
In addition, the Board voted to construct an annex to the West Wing of the high school building. This annex was to contain a cafeteria with a seating capacity of 250, an instrumental music room and music practice rooms.
'Sonnontouan' dawns in '45
Wellsville's yearbook was first planned by the policy committee of the Student Council in 1945. Anne Sangree was selected as its first editor. Sonnontouan, meaning "Genesee Country" in the Iroquois language, was selected as the new yearbook's name. Other contenders were The Oriole and The Lion's Roar. The first yearbook, appeared in June, 1946. At that time, the senior class managed the yearbook, and only seniors would hold editorial posts.
In the late 1940's, money was raised and construction was begun for a memorial swimming pool on school property facing West Pearl Street to honor those who served during World War II. War Memorial Pool, a Wellsville landmark for many years, was dedicated August 20, 1947, and cost $80,000. It was removed following the flood of 1972 and the decision to erect a new swimming pool.
Seniors first sold magazine subscriptions from September 17 to October 4, 1948. Seniors exceeded the $3000 quota by nearly $1000. Margaret Dean was the top salesperson in this first drive, selling $282.05 in subscriptions to support the 1949 Sonnontouan. She won for her efforts a Bulova watch.
June 30, 1948 marked the competition of Wellsville's school consolidation when 21 one-room schools merged and joined Wellsville. Wellsville Union Free District no.1, which had been in existence for 89 years, was immediately abolished, and the Central School District No.1 of Wellsville, Scio, Andover, Willing, Alma, and Independence was established. Voters approved the resolution 549-8
School survives fires, floods
Board builds new gym, shops
In 1950, voters approved a $8,750,000 building program to construct a new gymnasium and shops. The WHS gymnasium facilities, reports the Owl, had, "long been considered inadequate," and the electrical, woodworking, machine and ag shops required modern facilities.
Pictures on right: The FLOOD OF 1972 caused extensive damage to WHS, as shown by these photos of the first floor hallway to the gym (top photo) and the basement custodial offices (bottom photo).
WHS's new gymnasium was dedicated January 31, 1952. It measures 100 feet square, and has telescoping bleachers seating 1500. The playing area of the main basketball court measures 50 by 85 feet. At the time of its construction, this was, the only regulation size indoor basketball court in Allegany County.
Four new shops were constructed; an ag shop, a woodworking shop, a metal shop and an electrical shop, located where the art room presently is. A mechanical drawing room was added as well.
In addition, the auditorium was extensively renovated. The stage was deepened, the seating capacity was increased and the windows were sealed and bricked over. New seats and a new lighting system were installed, and the acoustics were improved.
In 1963 New York State issued a proposal whereby small school districts would be merged to form larger ones. Under this plan, Wellsville, Whitesville and Scio Central Schools were to merge. Opposition to the plan, however, was fierce and no action was taken.
WHS bursts at the seams
By the late 1960s, overcrowding at WHS had become extremely severe. Study halls had to be held in the cafeteria and auditorium, while two classes were being held simultaneously in the old study halls. Many classes had 40 or more students.
Pictured on the left was the proposed site for Wellsville High School to be located pn the Bolivar Road. The project was nixed by voters on November 26, 1970.
October 19, 1970, the Board of Education voted to construct a new 800-pupil high school and athletic complex on the site of the old airport where K-Mart now stands.
Plans called for classrooms, a 600-seat auditorium including movable walls for division into three lecture halls and a two-station gymnasium capable of seating 1,000, at a total cost of $4,460,000. The proposition was, however, rejected by taxpayers November 26, 1970.
When Hurricane Agnes struck Wellsville in June, 1972 Brooklyn Elementary School and the High School, both located on the floodplain next to the river, were both heavily damaged. The girls' gym and basement shops in the high school were especially hard hit.
Following the flood, the high school was extensively modernized. The library facilities were moved from Room 312 into larger facilities on the second floor, the laboratories were rebuilt and enlarged and the bathrooms were reconstructed.
In 1973 construction started on a new elementary school on what was known as the "Washington site" on School Street. This building, based on an open classroom format, was completed in late 1973, despite labor troubles that delayed the finish of work and required students to eat lunch in their classrooms the first few weeks of school pending completion of the cafetorium.
This new building reduced the congestion and allowed the school system to close the outdated Martin Street School, built in 1916.
Wellsville Central Schools then took on its present form, with grades K-1 in the Primary School, grades 2-5 in the Intermediate School and grades 6-8 in the Wellsville Middle School, leaving grades 9-12 in the High School building.
A new gymnasium and indoor swimming pool were attached to the Middle School in 1974.
Student arsonist totals classroom
November 24, 1981 a fire was discovered in Wellsville High School. At 3:02 p.m., business teacher John Henkel discovered smoke coming through the floor of his classroom, Room 297, located above the internal suspension room, Room 105, which was discovered to be on fire.
Internal suspension was totally destroyed in the fire, and Room 113 and the Computer Lab were damaged by water. Damages were in excess of $25,000.
Not long thereafter another disaster struck WHS. Palm Sunday, March 27, 1983, Superintendent of Buildings and Grounds Mike McKinley discovered on a routine inspection of the school that three emergency hoses had been turned on by vandals, flooding the building with some 40,000 gallons of water.
Heaviest damage was to the library. Over a third of the library's 11,000 books were destroyed. The Guidance Department's resource library was damaged as well. In addition, most of the Business Department's typewriters were lost.
Total damage was over $500,000. The responsible party was never apprehended.
Some significant issues facing the Wellsville schools as they enter their second hundred years will be how to best cope with declining enrollments, how to best prepare students for a rapidly changing world and how to best insure academic excellence without sacrificing fiscal responsibility.
---
---
---