Richard W. Bellows
April 21, 1922 ~November 20, 2017
Richard W. Bellows, 95, of 6 Brookside Dr., died Monday (November 20, 2017) in Geneva General Hospital.  Friends may call from 6 to 8 p.m. Friday (Jan. 5, 2018) at Coe-Genung Funeral Home. Military rites will be 6 p.m. Friday at the funeral home, performed by members of Waterloo Memorial Post 6433, V.F.W. and Warner VanRiper Post 435, American Legion. The Masonic Memorial services will be at 8 p.m. at the funeral home, performed by Pocahontas Lodge 211 F.&A.M. and Central City Bodies AASR. The memorial service will be Saturday (Jan. 6, 2018) at 11 a.m. at Trinity Episcopal Church. Rev. Nelson Gaetz, interim priest of Trinity Episcopal Church and Rev. Philip Kasey, retired pastor, will officiate. Burial will be in Trinity Episcopal Church Memorial Garden.  In lieu of flowers, memorial contributions may be made to Trinity Episcopal Church, 27 Fall Street, Seneca Falls, NY, 13148 or organizations of one's choice. Richard was born April 21, 1922, in Hector, PA, the son of Orren W. and Luella M. Clark Bellows. He was a 1942 graduate of Wellsville High School, Wellsvillle, NY. Richard served in the Army Air Corps during WWII . Returning from the service he was employed with Sinclair Refinery in Wellsville. Eventually he left employment with Sinclair and was then employed with the Air Preheater Company in Wellsville, that later was acquired by Combustion Engineering. He transferred from Wellsville, to the main office in Windsor, CT as a Quality Engineer, until his retirement. After retiring, Richard and his wife, Rachael moved to Waterloo to enjoy boating on the Finger Lakes.  Dick was a member of Trinity Episcopal Church. He was a member of Morrison Hayes Post 702, American Legion in Wellsville, NY. For many years he was an active member of Pocahontas Lodge 211 F. & A.M of Seneca Falls, NY and 33rd Degree Mason with Central City Bodies AASR, Syracuse, NY. He also was a member of Seneca Lake Chapter, OES, Dresden, NY. Dick was a member of the Masonic War Veterans, as well.  He is survived by his wife of 71 years, Rachael A. Pflager Bellows; daughters, Susan H. Allen and Margaret A. Kernan both of DeBary, FL, and Nancy J. (Dale) Smith of Wellsville, NY; six grandchildren, 11 great-grandchildren, one great-great grandson; brother, Kenneth O. Bellows of Wellsville, NY, many nieces and nephews; sister-in-law, Connie Bellows of Mentor, OH; a niece he called his "fourth daughter" Linda Young. Richard was predeceased by brothers, Paul and Herbert Bellows.
William L. Lafferty
June 12, 1923 ~ July 23, 2017
William L. ""Bill"" Lafferty, 94, formerly of Wellsville, N.Y., died Sunday (July 23, 2017) in Hospice of Orleans Home, Albion, N.Y., following a brief illness.  Born June 12, 1923, in Wellsville, he was the son of Lewis W. and Florence Robinson Lafferty. He was married to the former Virginia Halsey, who predeceased him on Jan. 26, 2010. A  World War II Veteran, he served honorably with the US Navy. Bill was a lifelong resident of Wellsville and retired from National Fuel Gas Co. of Wellsville. He was a life member of Dyke Street Hose Co. of Wellsville and a member of Frank B. Church VFW Post #2530 and the Wellsville Moose Lodge. Surviving are two daughters, Linda Sweeney of Friendship, N.Y., and Mary Jo (Don) Bentley of Kent, N.Y.; six grandchildren, Alesia (Vong) Boussa of Wellsville, Christine (Jeremy) Goulet of Biddeford, Maine, Danielle (Tony) Clingerman of Virginia, Ashley (Jim) Jawkins of Kent, N.Y., Brandon (Molly) Bentley of Rochester, N.Y., and Chad (Libbey) Bentley of Kent, N.Y.; several great-grandchildren;  nieces and nephews. In addition to his wife, he was predeceased by two sons, Robert and Billie.   He enjoyed time spent with his family and his Friday nights with his great-grandson, Justin. They would have a fish fry, watch Bonanza and Gunsmoke and then Grandpa would tell Justin about the good old days. Occasionally, they would go into the workshop and work on projects. Justin was the apple of his Grandpa's eye.  Visitation and funeral services were held Thursday (July 27, 2017) in the Mulholland-Crowell Funeral Home, Wellsville, NY. Pastor David Beach, of the Gaines Carlton Community Church of Albion, officiated. Interment, with full military rites accorded by members of Wellsville American Legion Post #702, was in Knights Creek Cemetery, Scio, N.Y. Memorials may be made to the SPCA serving Allegany County, P.O. Box 381, Wellsville, NY 14895 or the Purple Heart Homes, c/o Jamie L. White, 284 Farnum St., Wellsville, NY 14895.
Leah Raptis-Theofanis
September 9, 1922 ~ April 16, 2016
April 16, 2016 at age 93. Leah, a former resident of Delray Beach, FL for 28 years, was a Foreign Language Teacher in the Rush Henrietta Schools. Leah loved ballroom dancing, traveling and was an avid bridge and tennis player and bowler. She supported her husband Jimmy in his ownership of several local restaurants including Arrows, Arthur Treachers Fish & Chips and Theo's Restaurant in Penfield.   Predeceased by her husband, James Theofanis, and Daniel Vitarius and George Tobias; son, Charles Theofanis; sister, Irene Mentis, and brother, Charles Raptis. Leah is survived by her daughters, Angie (David) Kleeh and Gigi (Douglas) Lamb; daughter-in-law Diane Theofanis Ellis (Rick); grandchildren, Jason (fiancée Amy), Adam (Katie) and Matthew (Kristina) Kleeh; Marissa (Ryan) Bushman, Brett (Jackie) Lamb, Joanna and A.J. Theofanis; 6 great-grandchildren; brother, James (Demmye) Raptis; brother-in-law Fr. Elias Mentis and many cousins, nieces and nephews.  Friends and family may call Thursday, 4-7 at the funeral chapel (2305 Monroe Ave.) where a funeral service will also be held Friday, 10am. You are invited to bring a written memory for the family's memory book. Interment at White Haven Memorial Park. In lieu of flowers, contributions may be directed to the Bivona Child Advocacy Center, One Mt. Hope Ave., Rochester 14608.

Elizabeth O'Connor-Harris
July 18, 1925 ~ August 16, 2012
Elizabeth O'Connor Harris passed away peacefully on Thursday, August 16, 2012 at Hart Comfort House in Wellsville, NY where she had resided for several days.   She was born in Wellsville on July 18, 1925 to the late Gertrude Burr O'connor and John H. O'connor. On june 16, 1948 Elizabeth married Daniel Christiana Harris in Wellsville where they chose to raise their family becoming integral members of the community.    Elizabeth is survived by her four children Daniel (Ann) c. Harris Jr., Kevin (Jeanne) O'connor Harris, Patty Ann (John) Kuzma and Mary Lois [Dan) Denner, eleven grandchildren, five great grandchildren, many nieces and nephews and a very close extended family including Joe and Florence Ann Felsen and family, Kitty Cretekos and family and many more too numerous to mention.    She was predeceased by her husband, brother John O'Connor and his wife Lois and nephew Michael O'Connor.    After graduating from immaculate conception school, Wellsville High School and Alfred University Elizabeth was active in Beta Sigma Phi in which she stayed involved until recently. She also taught English in the Wellsville school system and is still fondly remembered by former students.    Liz shared a lifelong passion for golf with her family and friends, playing daily for many summers and for bridge which she played several days a week with her friends.    She was a very active communicant in Immaculate Conception parish volunteering im many different capacities throughout her life.  Most of all, Elizabeth enjoyed all things involving her family. She was a very recognizable figure at any sporting event, and there were many, involving her children and grandchildren.    While using her porch as a bus stop the children of the neighborhood enjoyed her protection and the treats she provided daily.    Her home was always the hub of activity for her family and friends but her specialty was holidays made especially memorable by her extensive preparation and enthusiastic participation. Elizabeth will be very sadly missed but very joyously remembered. Friends are invited to call on sunday, august 19, 2012 from 4:00 to 8:00 pm at the J. W. Embser Sons Funeral Home Inc. In Wellsville. A mass of Christian burial will be celebrated on Monday at 11:00 am at the Immaculate Conception Church in Wellsville with Rev. Thomas Roman as celebrant. Burial will be in Sacred Heart Cemetery.    Memorials donated in her name to Hart Comfort House or Jones Memorial Hospital, both in Wellsville, will be greatly appreciated in lieu of flowers.
 Richard F. Chandler
April 4, 1924 ~ June 21, 2008
Dorr Wells Graves Jr.
September 25, 1923 ~ November 29, 1994
Wilbur Glenn Herret
December 13, 1923 ~ November 20, 2011
Mary Gaus-Woodward
1926 ~ 2011
Elizabeth "Jean" Hart-Hanks
September 2, 1926 ~ December 17, 2012
Elizabeth J. "Jean" Hanks – 86 – of 359 Karrdale Ave., (Knoll Crest Rd.), Almond, died Monday afternoon (December 17, 2012) at her home, following a long illness. Born in Wellsville, NY on September 2, 1926, she was the daughter of Patrick "Henry" & Sara Finola (Wiles) Hart. Jean grew up in Wellsville and was a graduate of Immaculate Conception Parochial School and later graduated from Wellsville High School . While living in Wellsville, she had been employed as a telephone operator for New York Telephone Company.  From 1944 – 1953 Jean resided in Alfred and has lived in Almond for the past 60 years. For 57 years, Jean was employed at Alfred University in many capacities, including working in the Treasurer's office and Food Service Department.  She retired in 2001 as Administrative Assistant to the Director of Dining Service. She was a communicant of St. Brendan's Church of Almond where she had been a member of the Altar & Rosary Society.  In her younger years, she served as Boy Scout Leader for Boy Scouts of America. Jean was preceded in death by her son, William "Bill" Hanks who died February 25, 1971.  She was also preceded in death by 2 brothers, William Hart & Gerald Hart; 1 sister, Mary Esther Adams. Surviving are 3 daughters, Barb (Pat) McPoland of Simpsonville, SC, Marilyn (Bill) Weidman of Newburgh, IN and Nancy (Ed Ellington) Hanks of Almond; 1 sister, Julia "Judy" (Jim) Brush of Wellsville; 1 brother-in-law, Clint Adams of Rochester; 7 grandchildren, Shawn McPoland, Melissa McPoland, Jennifer McPoland, Mark McPoland, Billy Weidman, Kelly Weidman, Michael (Molly) Weidman; several nieces & nephews.  A Mass of Christian Burial will be celebrated on Friday at 11:00 AM at St. Brendan's Church in Almond with burial in Woodlawn Cemetery, Almond. Jean's family request that memorial contributions in her name be made to Immaculate Conception School, 24 Maple St., Wellsville, NY 14895 or to Comfort House of Allegany County, 141 East State St., Wellsville, NY 14895.
Walter Joseph Deery
July 11, 1924 ~ January 1978
Edward W. Piper
July 26, 1923 ~ March 28, 2011
Donald Marsh
December 21, 1923 ~ January 29, 1991
MARSH, Donald D., Born 12-21- 1923 Died 1-29- 1991 Age 67
Spouse of Lois E., Wed Jan. 03, 1953
Son of Eugene & Maude McGone Marsh
b. Rixford PA
Vivian Duell
May 22, 1925 ~ January 2, 2005
CM3 U.S. NAVY – WORLD WAR II
Jane G. Gavitt-Stein-Harder
April 4, 1924 ~ September 22, 2015
Jane Stein Harder, 91, of Hillcrest Drive, passed away in her home on Tuesday (Sept. 22, 2015)?following a brief illness. She was born in Wellsville on April 4, 1924, the daughter of Carl and Bernice Hackett Gavitt.  She was a lifelong resident of Wellsville and was a graduate of the Wellsville High School and had attended the St. John's Episcopal Church of Wellsville.  She was married to Royden Stein, who predeceased her in 1944, and later to Hobart Harder, who died in 1971.  She had been employed at the Loblaws Grocery Store, First Trust Bank and retired from the Lunn Lumber Co., all of Wellsville.  She was known as a talented artist, especially for her paintings and wood carvings.  She is survived by a son, Leslie (Mary)?Stein of St. Petersburg, Fla.; daughter-in-law, Stephanie Stein of Wellsville; stepchildren, Nancy (Todd)?Steinke of Texas, Melissa Bowen of Texas and Laura Matthews of Auburndale, Fla.; grandchildren, Daniel (Jennifer)?Stein, Eric (Melissa)?Stein, Jennifer (James)?Tillotson, Caryn Hand, David Harder, Maryanne Harder, Michael Harder, Andrea Petkus, Barbara Petkus, Virginia Steinke, Bradley Steinke; many great-grandchildren, nieces, nephews and cousins. She was also predeceased by her parents; husbands; son, James; brother, John Gavitt; and sister-in-law, Shirley Gavitt; and a stepson, Steven Harder.  There will be no visitation. Memorial and interment services will be at the family's convenience and will be announced later.  Memorials may be made to the Jones Memorial Hospital or to the Children's Section of the David A. Howe Public Library.
James Donald Duke, Jr.
August 6, 1921 ~ June 22, 2006
James Donald "Jim" Duke, Jr., 84, of Pulaski went to his heavenly reward on June 22, 2006 and was reunited with his beloved wife, Effie. He was born in Wellsville, New York on Aug. 6, 1921 and was the son of the late James D. Duke, Sr. and Hazel Roche Duke. He was a veteran of World War II and was the former owner and operator of Jim's Steak House in Pulaski. Surviving are: his son, James Donald Duke, III, Lynchburg; sister and brother-in-law, Gloria and Jack White, Pulaski; brother, Rock T. "Skip" Duke, Pulaski; three grandchildren; three great-grandchildren. A graveside service will be held Monday at 10 a.m. at the Highland Memory Gardens Mausoleum Chapel with Rev. Vickie Houk officiating. A memorial service will be held 11 a.m. Monday at the Christ Episcopal Church, Pulaski with a reception to follow in the Parish Hall. Visiting will be Sunday evening at Stevens Funeral Home where the family will receive friends from 6 until 8 p.m. Arrangements by Stevens Funeral Home, Pulaski.
Florence Edna Lamphier-Gaylord
July 25, 1923 ~ February 9, 1984
Gloria Gleason
June 8, 1925 ~ January 12, 1983
Dorothy Irene Minard-Gleason-Polateer-Hosler-Rohrabacher
July 27, 1924 ~ March 5, 1988
Patricia Ann Crichton-Walsh
December 20, 1924 ~ January 24, 2011
Patricia Anne Crichton Walsh was born December 20, 1924 in Passaic, NJ and died on Monday, January 24, 2011 in Tucson. Patsy graduated from Alfred (NY) University and began a career as a registered nurse which took her from private duty nurse in DuBois, PA; to public health nurse in Santa Cruz Co., AZ; to work in OB-GYN and Oncology at UMC in Tucson, from which she retired in 1989. Always active, she enjoyed bridge and other games, travel, reading and her family. She was a long-time member of the Young @ Heart group at Lucky Strike Bowl and the 500 Club, until illness struck last year. Mom believed in a positive attitude through adversity and in the power of laughter. She will be missed by her surviving family: children, Maureen Walsh (Michael McCue), Patricia (Jeff) Campbell, James P. Walsh, Sharon (John) Farrell; grandchildren, David and Kristina McCue, Creed, Caetlin, and Cara Campbell, Kristie and Peter Farrell; great-grandsons, Michael and Tyler McCue and Aiden and C.J. Campbell; sisters, Maureen (Dick) Lynch and Helen Monroe; in-laws, Bob Thurner, Mary Benz and Jane Walsh and many nieces and nephews. She is predeceased by her husband, James P. Walsh; parents, George and Anne Grady Crichton; brothers, John and George and sister, Gean Thurner. Viewing will be Sunday, January 30, 2011 from 2:00 p.m. – 5:00 p.m. at BRING'S BROADWAY CHAPEL, 6910 E. Broadway with Rosary recited at 4:00 p.m. Mass will be offered 11:00 a.m., Monday, January 31, 2011, at St. Pius X Catholic Church, 1800 N. Camino Pio Decimo. Burial to follow at East Lawn Cemetery.
Elva Newland-Baker
November 14, 1924 ~ September 20, 2002
Jack Wilson Eames
December 5, 1923 ~ April 2, 2003
Annabelle Norton-Maitland
August 27, 1922 ~ February 24, 2006
Robert Alan King
March 13, 1921 ~ February 17, 2001
Jean Lee Heselton-Robinson-DeSantis-Wallace
May 13, 1925 ~ August 3, 2002
Onalee Norva Lewis-Pakis
January 27, 1924 ~ July 28, 2005
Onalee N. Pakis, 81, of 3083 Route 248, went to be with the Lord on Thursday July 28, 2005 at the Wellsville Manor Care Center. She was born January 27, 1924 in Woodhull, the daughter of Leon G. and Flora M. (Gould) Lewis. On July 2, 1949 in Stannards she married Louis J. Pakis, Jr. who predeceased her on November 11, 2002. She was a 1942 graduate of Wellsville High School and was employed by the Eclipse Corp. of Elmira during WW II. She later was an Avon Representative for 25 years, retiring in 1989. She was a member of the Hallsport Christian Church and the Willing Firemen's Auxiliary. She enjoyed reading the Bible and devotional books; and was a collector of photographs relating to family history. Onalee is survived by a son, Donald A. Pakis of Wellsville, 1 sister, Georgia M. (Jerry) Sherman of Wellsville and several nieces & nephews. She was predeceased in addition to her husband by a brother, Donald Lewis. Friends are invited to call on Friday from 2:00 to 4:00 and 7:00 to 9:00 pm and Saturday from Noon to 2:00 pm at the J. W. Embser Sons Funeral Home Inc. in Wellsville. The funeral will follow visitation at 2:00 pm Saturday July 30th in the funeral home, with Rev. Richard Bendelewski presiding. Burial will be in Stannards  Cemetery and memorial suggestions include the Hallsport Christian Church or the Willing Volumteer Fire Department.
 Betty Lou Fontaine-Cameron
March 25, 1924 ~ May 24, 2010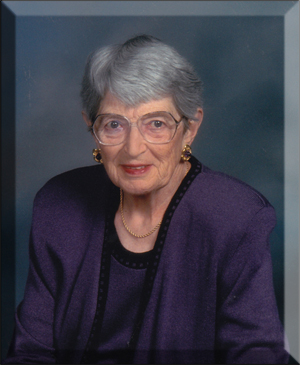 Betty Cameron, of Maple Valley, died Monday, May 24, 2010 at Valley Medical Center in Renton. She was 86 years of age. Mrs. Cameron was born on March 25, 1924 in Wellsville, New York, the daughter of John Fontaine and Mary Barker. She graduated from Wellsville High School followed by a chemistry degree from Alfred University. On June 6, 1953, she married Joe Cameron in Ithaca, New York. Betty was working at Cornell University when she married Joe. Following marriage they moved to Greece, New York, near Rochester, where she devoted her full-time efforts to raising a family. Later, Betty was employed by the Greece School District for many years prior to her retirement. They lived in Greece until 1986 when they moved to Maple Valley. In retirement Betty enjoyed spending time with her family and friends. She also took enjoyment in her involvement with Maple Valley Presbyterian Church where she served many years as the Volunteer Treasurer. Betty is survived by one daughter, Cheryl Cameron of Seattle, and two sons. One son, Clifford, currently resides in Saline, Michigan and the other son, Craig, currently lives in Vista, California. She is also survived by four grandchildren: Amiee and Maxwell Kehrer, Ryan Hanschen, and Zachary Cameron. A memorial service and celebration of Betty's life will begin at 11:00 a.m. on Saturday, May 29, 2010 at Maple Valley Presbyterian Church, 22659 Sweeney Rd SE, Maple Valley, WA 98038-6416

Thomas A. Klein Jr.
September 15, 1922 ~ November 28, 1986
CPL. U.S. ARMY AIR CORP. – WORLD WAR II
Robert Earl Klang
June 15, 1923 ~ April 14, 1991
Clarence George Hanchett
March 1, 1923 ~ January 21, 2007
Marian Riggs-Frenz
August 2, 1924 ~ November 8, 1976
Lee Edward Schulties
April 27, 1925 ~ April 15, 2010
 Bessie "Pat" Rose Marie Worden-Harrelson
July 24, 1924 ~ July 5, 1981
 Lawrence Alton Woodland
November 28, 1923 ~ June 5, 2000
Julius F. Quick
December 22, 1923 ~ August 2, 2008
Leo E. Finn
March 9, 1924 ~ February 7, 1991
PHM1 U.S. NAVY – WORLD WAR II
Agnes Searl
April 12, 1923 ~ June 28, 1957
George Birdsall Harris
September 8, 1924 ~ January 16, 1987
John Milton Harris
August 8, 1925 ~ October 2, 2004
John Milton Harris Age 79, of Wilmington, DE, died of Cancer, Saturday, October 2, 2004 at his home, He was born in Wellsville, NY in 1925. He spent 1 year at Alfred University, NY, joined the US Navy in 1943, and graduated from the University of Rochester, NY, in 1945 with a BS in chemical engineering. He attended USNR Midshipman School at Columbia University and spent 1 year in Pearl Harbor Shipyard. After discharge from the Navy in 1946, he worked for 2 companies before joining the DuPont Company in 1952. Most of his career was spent in the Engineering Department Design Division before retiring in 1985. He helped found the Warehouse project of First Unitarian Church in 1991 and was co-chair until it closed in 2003. He was a volunteer tax counselor for AARP Tax Counseling for the Elderly Program for the past 14 years. He also had volunteered at Deaf Contact, Hagley Museum, U of D Extension Service as a financial counselor, and Brandywine High School as a tutor. He was a board member of the Unitarian-Universalist Retirement House in Philadelphia for 10 years. He was a member of the DuPont Country Club, playing both tennis and golf. He is survived by his wife of 55 years, Roxanne; daughter, Sue Elizabeth Harris, of Marblehead, MA; sons, Stephen and Paul, of Wilmington, DE, and son, Mark and daughter-in-law, Cherie, of San Mateo, CA; grandchildren, Matthew and Kristin Wetherbee, of Marblehead, and Bryan and Henry Harris, of San Mateo; and a brother, Kenneth Harris, of Huntsville, AL. Memorial contributions may be made to Delaware Hospice, 3515 Silverside Road, Wilmington, DE or the Opportunity Center, Inc., 3030 Bowers St., Wilmington, DE. A memorial service will be 11 am, Friday, October 22, 2004 at the First Unitarian Church, 730 Halstead Rd., Sharpley.
Katherine Brasted-Scutella
June 14, 1923 ~ July 16, 2015
Catherine "Kay" Scutella, July 16, 2015 at the age of 92. Predeceased by her husband, Joseph Scutella; sons-in-law, Ari Denbreeijen & Jeff Hoffman . Survived by her children, Joyce (Doug) Smith, Joseph Scutella, Catherine Hoffman, Mary Ann Scutella, James (Sharon) Scutella; 12 grandchildren; 14 great-grandchildren; sister, Grace Bathurst; many nieces, nephews & dear friends. Kay was loved by all who knew her.  Kay's visitation will be held 3-7PM on Monday at the funeral home, 1411 Vintage Ln (between Rte 390 & Long Pond Rd). Her Funeral Mass will be celebrated 11AM on Tuesday at St. John's Church, 931 North Union St, Olean NY 14760. Interment in St. Bonaventure Cemetery.  Kay was one of nine children and graduated from Wellsville High School. She and her husband met while league bowling. They loved dancing and won many competitions! They had a large family with five children. They were further blessed with several grandchildren and great grandchildren. Her great grandchildren all knew her as "Nana" and "Gee Gee."  Known as the "Cookie Lady," she loved to cook and bake for her family. The family also enjoyed her warm crocheted blankets as this was one of Kay's favorite things to do. She also was an avid reader, delighting in historical romance & inspirational readings. She was a Buffalo Bills fan and particularly liked watching western movies on TV.  Kay was a sweet, loving and nurturing woman with a strong faith.
Richard R. Sweet
January 10, 1924 ~ March 21, 2013

Richard R. Sweet, 89, of Juno Beach, FL sailed off peacefully into the night on March 21, 2013. He was born on January 10, 1924 in Wellsville, NY. As a World War II
veteran in the Navy, he served as a sailor on submarines. His career spanned 35 years from New York Bell to Southern Bell in Florida where he spent the happiest days of his life. He traveled extensively with his wife, Sally and then spent his remaining years walking the Florida beaches with his dog, Misty. He was predeceased by his wife, Sarah Ann Sweet. He is survived by his daughters; Lisa Ann Fountain (Harry), Lorie Kay Biederwolf (John) and Laine Elizabeth Golden, eight grandchildren and four great grandchildren. A graveside service will be held at Riverside Memorial Park, 19351 S.E. County Line Road, Tequesta, FL at 3:00 PM on Saturday, March 23, 2013. Memorial donations can be made to Hospice of Palm Beach County, 5300 East Avenue, West Palm Beach, FL 33407.
Joseph Frank Chalker
December 8, 1924 ~ September 11, 2011
Joseph Frank Chalker, 86, of Westminster, died Sunday, Sept. 11, 2011, at Carroll Lutheran Village, from pancreatic cancer. Born Dec. 8, 1924, in Wellsville, N.Y., he was the son of the late Viva and Joseph Chalker. He was the husband of Coetta E. Chalker, his wife of 62 years. He attended Ithaca College, where he received degrees in music education. He served as a bombardier in the 15th Air Force, stationed in Cerignola, Italy, during World War II. He was recalled during the Korean conflict as an instructor and remained in the Air Force Reserves, retiring as a major. He was the former band director at Westminster High School, string specialist, and an elementary music teacher for Carroll County Public Schools until his retirement in 1984. He also taught music at Richburg and Arkport Central Schools in New York before coming to Maryland. A 57-year member of Westminster United Methodist Church, he sang in the choir, served as the choir director and formed the Bell Choir. He was the historian for the 454th Bomb Group Association, and a charter member and treasurer of the Carroll County Community Concert Association. An active member in Masonic organizations, he was a Past Grand Senior Warden of the Grand Lodge of Maryland. He recently received the Warren S. Seipp Medal for Distinguished Service to Freemasonry and was presiding officer of the Knights of the Red Cross of Constantine of Baltimore, and Carroll Commandery No. 17 of Westminster. He was a past presiding officer of numerous Masonic, Eastern Star and Masonic Youth organizations. Surviving, in addition to his wife, are son and daughter-in-law Stephen and Regina Chalker, of Elizabeth City, N.C.; daughter and son-in-law Nancy and David Rogers, of New Windsor; grandchildren Timothy Rogers and wife Renee, of Westminster, Andrew Rogers, of New Windsor, Rebekah Hanson and husband Alexander, of Eldersburg, Mark Poage, Amy Self and husband Wayne, and Jennifer Wilson and husband Brett, all of North Carolina; great-grandchildren Sophia and Savannah Rogers, Natalie Hanson, Zachery Poage, Emmie Self and Brooke Wilson; and extended family Sheri-Anne, Eric, Kelly and Amanda Woolman, and Donna, Larry, Krysten and Katherine Fritz. He was predeceased by a brother, Kenneth Chalker; and a sister, Alta Miller. The family will receive friends from 2 to 4 and 7 to 9 p.m. Wednesday and Thursday at Fletcher Funeral Home, 254 E. Main St., Westminster, where The Order of the Eastern Star will conduct a service at 7:30 p.m. Thursday, followed by a Knights Templar service at 7:45 p.m., and the Door to Virtue Masonic Lodge Memorial Service will be held at 8 p.m. A celebration of life service will be held at 11 a.m. Friday at Westminster United Methodist Church, 162 E. Main St., Westminster, with the Rev. Dr. Laura Easto officiating. Interment, with military honors, will be held at 2:30 p.m. Friday in Evergreen Cemetery in Gettysburg, Pa. Memorial contributions may be sent to Westminster United Methodist Church, Music Fund, 162 E. Main St., Westminster, MD 21157; the Stephen Ponzillo Memorial Library and Museum, Masonic Temple, 304 International Circle, Cockeysville, MD 21030; or U.S. Army Heritage & Education Center, 950 Soldiers Drive, Carlisle, PA 17013-5021.
Maj-Britt Margareta Karlsson-Gabel
1924 ~ October 1, 2014
Maj-Britt K. Gabel, 90, of Willow Street, PA, passed away Wednesday, October 1, 2014 at The Glen at Willow Valley in Lancaster, PA. She was born in Stockholm, Sweden the daughter of the late P. Hilmer and Margareta (Karlstrom) Karlsson. She was one of the first female chemists for US Naval Air Development Center, where she worked for 20 years. She was a member of Ascension Lutheran Church, Willow Street, and sang in the choir. Maj-Britt was formerly a member of the American Chemical Society, life member of STLE, Swedish American Museum in Philadelphia, Sigma Delta Epsilon, Sorority Pi-Beta-Phi, and the Lampeter Fire Co. Auxiliary. She was preceded in death by her husband James F. Gabel in 1978, her son Fred and her sister Elsa Nielson Leish. She is survived by her daughter Sharon L. married to Carl Beckler of Safety Harbour, FL, three grandchildren: Jeanenne, Nicole and Corrine, 4 great grandchildren: Jason, Ryan, Summer and Mark, and her sister Ingrid Barnes.   Flowers will be accepted or memorial contributions may be made to Ascension Lutheran Church, 600 Penn Grant Rd., P.O. Box 635, Willow Street, PA 17584-0635
Charles Victor Utter
June 19, 1923 ~ November 7, 2004
Barbara Mary Ross-Lewis
September 7, 1924 ~ November 27, 2005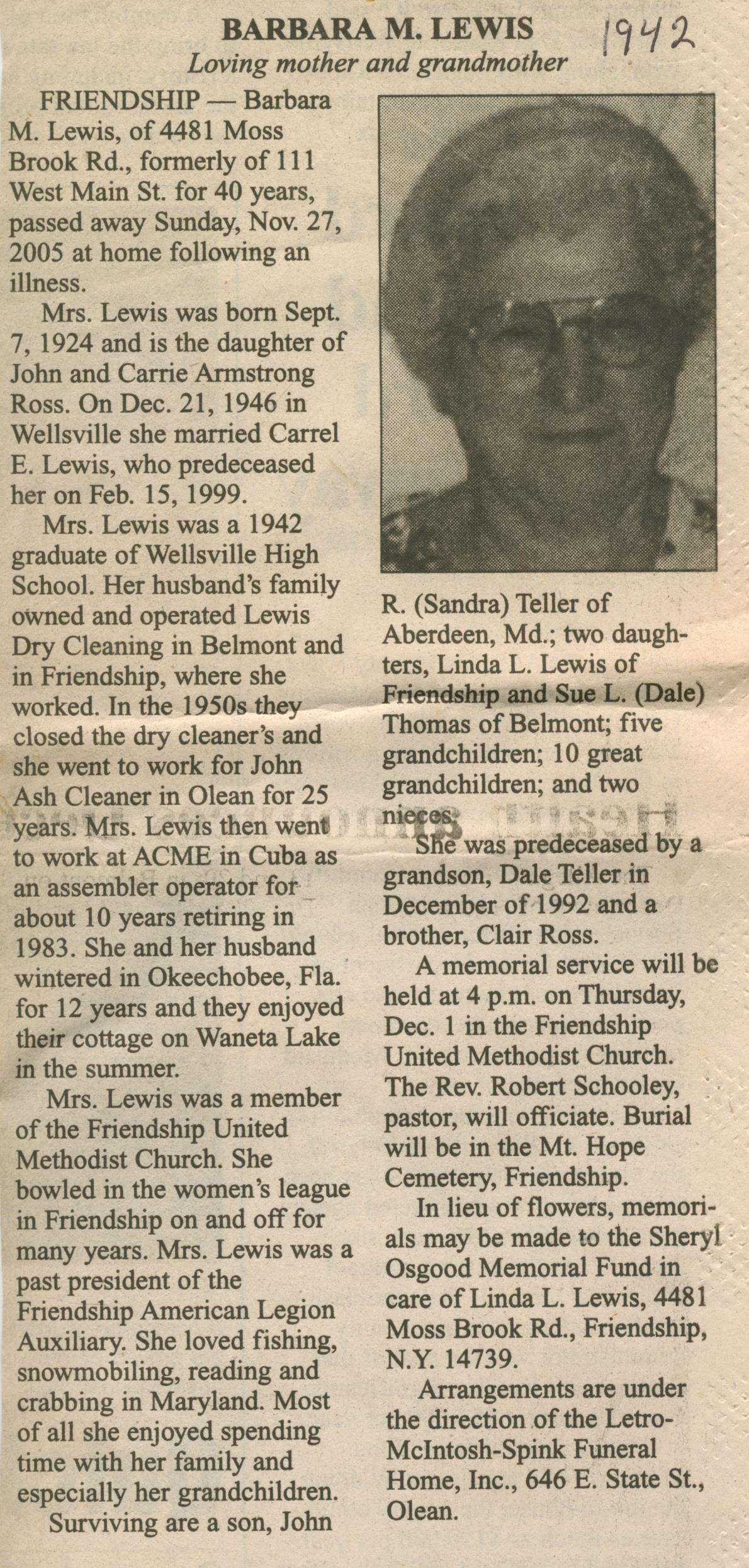 Arleon Effie Stephens-Tanner
February 17, 1923 ~ June 4, 2005
Fern Marie Nicholson-Chandler-Morrison
July 29, 1922 ~ July 1992
Katheline Antonette Biscaro-Pedziwiatr
May 6, 1925 ~ November 14, 2003
Katheline A. (Biscaro) Pedziwiatr, of Depew, November 14, 2003, beloved wife of the late Anthony; devoted mother of Sandra, Anthony (Samantha) and Paul (Patti); loving grandmother of six grandchildren; dear sister of 13 sisters and brothers. No prior visitation. Relatives and friends are invited to a Memorial Mass of Christian Burial in St. James Church, 496 Terrace Blvd., Depew, Thursday at 9:30 AM. 
Floyd W. Thompson
June 27, 1924 ~ March 3, 1988
Margaret Jane Mallery-Johnston-DeLang
November 19, 1924 ~ November 30, 2000
Ida Mae Black
March 30, 1924 ~ May 4, 2003
Ruth C. Stewart
May 25, 1923 ~ January 16, 1957
John Lewis Maitland
June 25, 1922 ~ February 2, 2006
Clara Rebecca "Becky" Wasserloos-Mathern
August 24, 1924 ~ August 8, 1977
Richard Joseph Coyle
July 17, 1924 ~ May 18, 1988
Janet Stewart-Parker
July 18, 1924 ~ October 3, 1991
Elizabeth Marie "Betty" Christman-Petrey
June 29, 1924 ~ November 1, 1962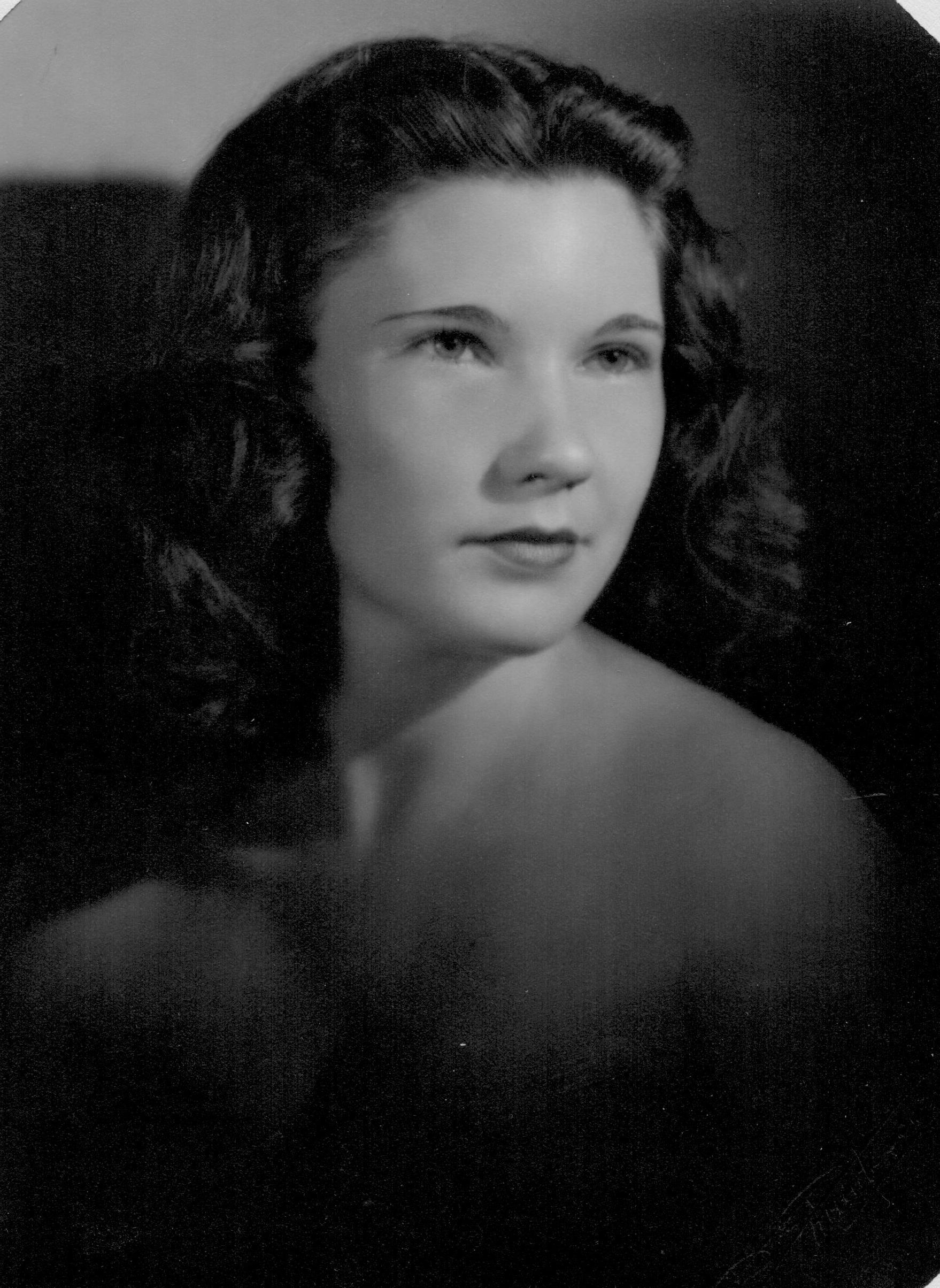 William J. Artlip
1924 ~ October 29, 2013
William J. "Bill" Artlip, 89, of Tampa, passed away Oct. 29, 2013. Bill was a proud World War II
Air Force Veteran. He was a talented woodcrafter, and loved magic, and was the family magician. He was an inquisitive man, and easily became friends with anyone he met. He is preceded in death by his wife of 63 years, Juanita "Wanie" Artlip; and son William George "Billy" Artlip. He is survived by two sons, James Artlip of California, and Peter (Renae) Artlip of Odessa; two grandsons, Foster Artlip and Billy Artlip; sister, Betty Mort; caregiver and close friend, Shannon Thomas; extended family and many friends. Bill will be greatly missed.