---
Class of 1933 In Memoriam
---
Marjorie Elizabeth Prior-Pettis
May 22, 1917 ~ March 21, 2004
---
Jennie Hoyer-Walsh
December 28, 1915 ~ December 23, 2006
---
Roberta Reuning-Rugaber
May 4, 1915 ~ December 23, 2006
---
John Slack
November 5, 1913 ~ December 28, 1985
---
Lorena Shear-Slack
April 17, 1914 ~ February 15, 2005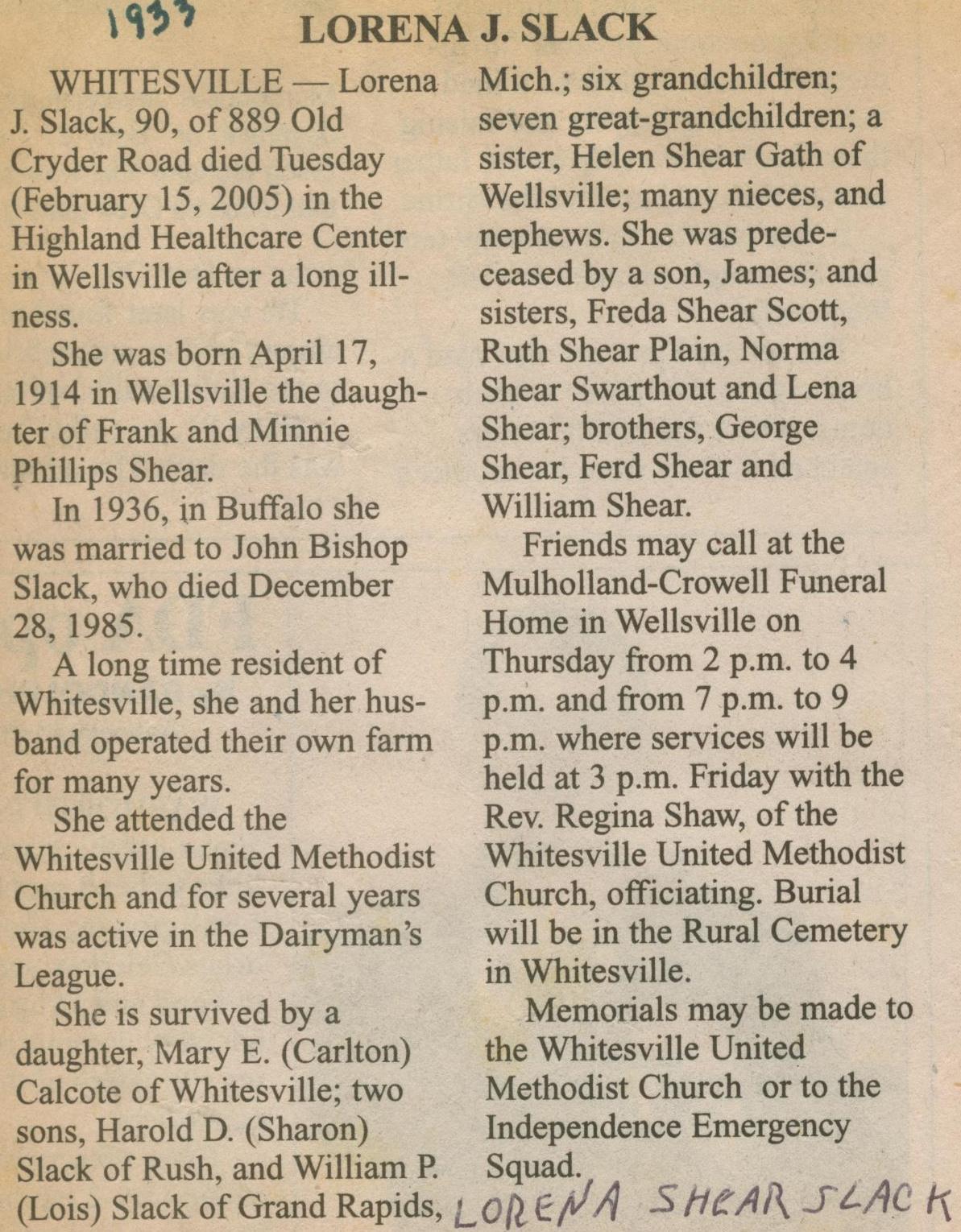 ---
Marlee Shear-Babcock
December 15, 1914 ~ September 7, 2008
Marlee S. (Molly) Babcock, Age 93, a resident of the Methodist Country House, Wilmington, DE, died September 7, 2008.   Mrs. Babcock, in addition to raising a family, was well known as a birder who could identify birds by sight or sound. She was a 50-year member of the DuPont Country Club, where she played golf with the Nine Hole Association Women's group for many years. She was an avid gardener, serving as chairperson of the Coffee Run Condominium ground committee during the 1990s, and member of the Garden Committee at Methodist Country House since then. Before her eyesight failed in 1995, her hobbies included bridge, bowling, international travel, and entertaining family and friends at the Stone Harbor New Jersey seashore. Mrs. Babcock was a parishioner of St. Joseph on the Brandywine, where her participation ranged from parish school activities in the 1950's to parish outreach and Mass in the Home programs in later years. Mrs. Babcock will be remembered in her home town, Wellsville, NY, as Marlee Shear, the daughter of Fred C. and Hallie Rogers Shear, one of 10 siblings, a graduate of Rochester Business Institute, and an employee of the local newspaper, the Wellsville Daily Reporter.    She is survived by her husband, John A., to whom she married in 1940; 3 children, Elizabeth Bredin of New Castle, DE, James M. of Gilford, NH, and John F. of New Durham, NH; 5 grandchildren; and a sister, Margaret Hollod of Wellsville, NY. She was predeceased by a grandson, Nathan J. Babcock.    Mass of Christian Burial will be offered at 3 pm, on Friday October 10, at St. Joseph on the Brandywine Church, 10 Old Church Road, Greenville, DE. A reception will follow in the Methodist Country House Millcreek Lounge after the service. Interment will be private.    In lieu of flowers, donations may be made to the Nathan J. Babcock Memorial Scholarship Fund, Inc., c/o James M. Babcock, President, 41 Haywagon Road, Gilford, NH 03246.
---
Merle James Shay
August 13, 1916 ~ November 9, 2005
---
Edward Fogle
October 31, 1913 ~ December 29, 2001
---
James Henry Graham
September 20, 1916 ~ April 16, 2001
---
Janice Baldwin-Day
August 26, 1916 ~ January 23, 2003
---
Olive Elizabeth Harder-Booth
February 18, 1916 ~ March 12, 2006
---
Harold William Heysham
April 25, 1914 ~ September 23, 2007
---
Eleanor Lorena Schrader-Skinner
December 10, 1915 ~ January 17, 1997
---
James Charles Davie
August 7, 1912 ~ March 8, 1990
---
Kenneth Eugene Hibbard
January 25, 1915 ~ September 9, 1998
---
Howard (Ted) Edson Gardner
 December 12, 1914 ~ March 31, 1988
---
 Richard William Leonard
June 16, 1914 ~ March 30, 2003
---
Una Wells-Gerdrill-Graves
 June 27, 1914 ~ April 12, 1997
---
Bernice Dickerson-Hoagland
September 5, 1914 ~ June 6, 1994
Bernice N. Hoagland, 79, of Pennsylvania Avenue, died Monday (June 6, 1994) in Jones Memorial Hospital.   Born Sept 5, 1914 in Alma, the daughter of Delbert and Edith Quick Dickerson, on Dec 20, 1936 in Frewsburgh, she married Glenn Hoagland, who died Sept 4, 1992.  Before moving to Friendship Mrs. Hoagland had been a resident of Alma and Okeechobee, Fla.. for many years. Mrs. Hoagland gratuated from Wellsville High School.  She was a member of the Alma United Methodist church where she taught Sunday School and was  a member of the United Methodist Women's Organization. Surviving Mrs. Hoagland are one son, John (JoAnne) Hoagland of Belmont; and two grandchildren; also several nieces and nephews.  Mrs. Hoagland was predeceased  by one brother and one sister.  Friends may call fronm 2 to 4 and 7 to 9 p.m.  Wednesday at the J.W. Embser Sons Funeral Home Inc. in Wellsville, where funeral services will be held at 2 p.m. Thursday. The Rev. Karen Sonnleitner, pastor of the Alma United Methodist church will officiate. assisted  by the Rev. Joanne Vineyard, pastor of the Sardinia United Methodist church. Burial will be in Chrystal cemetery, Chrystal, Pa.  Memorials may be made to the Alma United Methodist church or the American Cancer Society.
---
Lina Irene Crowner-Liebermann
February 22, 1916 ~ February 17, 1992
---
Margaret Lehman-Rohalla
October 22, 1912 ~ May 24, 2007
---
Olive Jean Dye-Emrick
June 14, 1914 ~ June 13, 2008
---
Merritt Russell (Mike) Vossler
January 6, 1915 ~ December 12, 1999
---
Erwin Otto Ballerstein
April 16, 1914 ~ March 2, 2002
---
Frederick Grover Wightman
December 14, 1913 ~ May 21, 2000
---
Ruth Alice Bailey-Burns
April 27, 1916 ~ July 5, 1990
---
Evelyn Stout-Fuess
September 22, 1917 ~ November 28, 2006
Evelyn Stout Fuess, 89, died November 28, 2006 in Sunbelt Nursing Home, Zephyrhills, FL. She was a WWII Veteran. Evelyn raised a family, taught elementary school, was Town Clerk in the Town of Ithaca, NY and Personnel Director for Precision Castings of Fayetteville, NY. She was predeceased by her husband, Stuart Edward Fuess; her daughter-in-law, Marie Grenier Fuess; and her brother, Bruce Stout. Survivors: A daughter, Barbara (Thomas) Ilecki; sons, William Fuess, Kevin (Joni) Fuess, Stuart (Carlene) Fuess; brothers, Byrl(Betty) Stout, Neil (Alice) Stout, Gary (May) Stout, Ellis (Dorothy) Stout, and Galen (Betsey) Stout; sister, Lorna Stout (John) Mowatt; seven grandchildren; one great-grandchild and numerous nieces and nephews. A private memorial service will be held in Waterville, NY. Contributions in her name to the Gulfside Regional Hospice, Dade City, FL or to your charity of choice.
---
Paul Fredericks Jr.
October 20, 1913 ~ April 1986
---
 Mildred Lucretia Quick-Lewis
September 1, 1915 ~ June 15, 2001
---
 Bruce Francisco Stout
March 10, 1916 ~ May 12, 2001
---
 Richard John O'Connor
January 13, 1914 ~ April 14, 1992
---
 Donald Spencer Boyce
May 24, 1914 ~ October 20, 1993
---
Jack Randall Burger
June 14, 1915 ~ November 23, 1994
---
 Richard Vernon Stevens
December 21, 1914 ~ April 11, 1999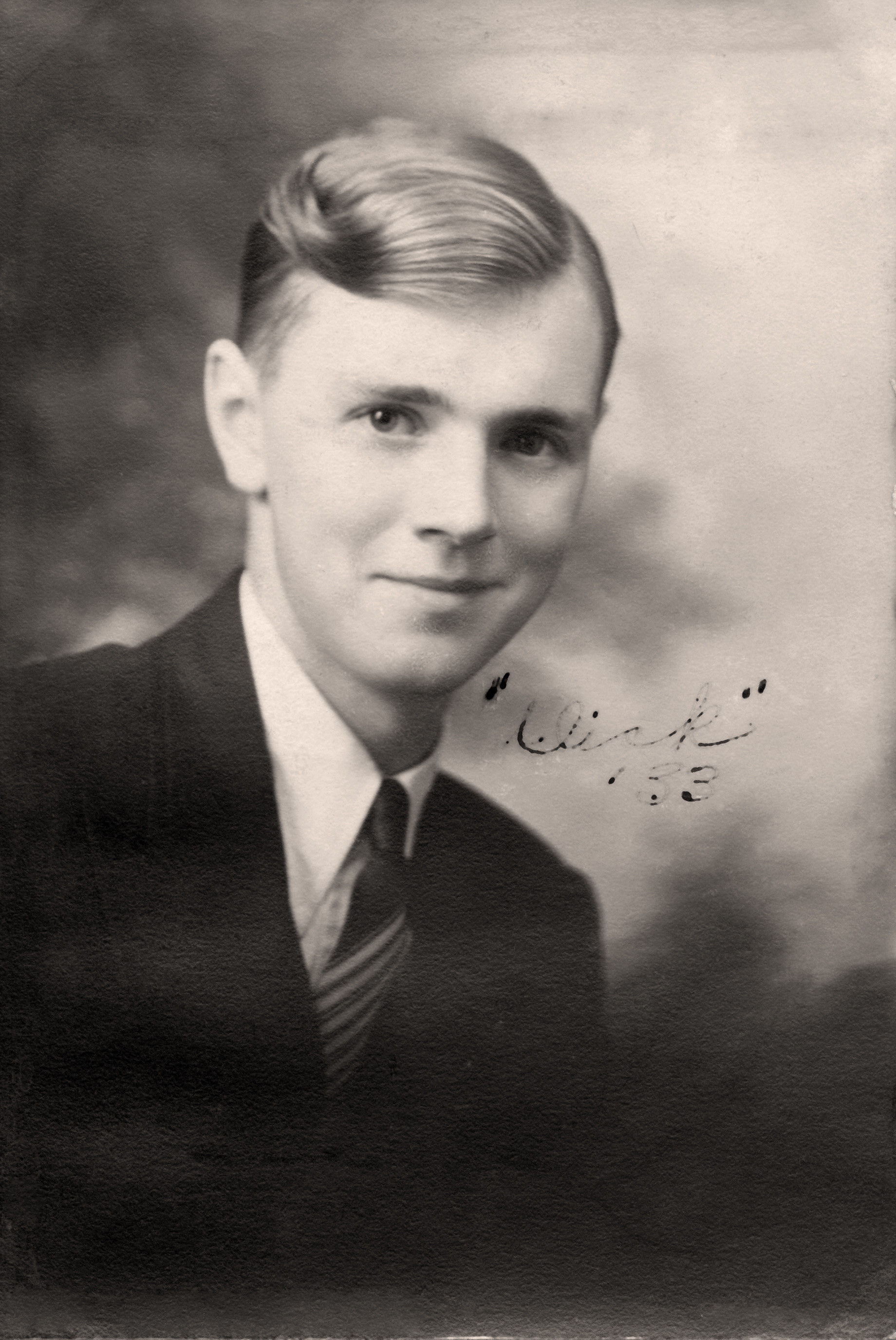 ---
 Phillip H. Ackerman
August 2, 1912 ~ July 20, 1988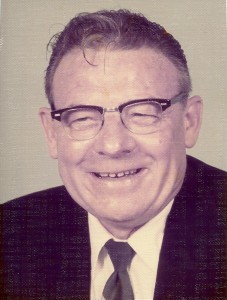 ---
 Grace Bledsoe-Erwin
September 12, 1915 ~ October 15, 2012
Grace B. Erwin, age 97, of Jackson, passed away Monday October 15, 2012 at Holzer Medical Center of Jackson. She was born in Whitesville, New York September 12, 1915 to the late Charles and Emma (Baker) Bledsoe.  She was a former B.P.W. Member and of the Christian Church in Jackson.  She is survived by husband, Harry Erwin of Jackson whom she married November 8, 1956 in Wellsville, New York; sons, Matt McCarthy of Coalton, Dennis Erwin of Denver and Connie (David) Staker of Salt Lake City, Utah;  three special grandsons, Mathew and Paul McCarthy, David Erwin; two granddaughters.  In addition to her parents she is preceded in death by stepfather, Harry McCarthy; one sister and three brothers. Funeral service at the Lewis Gillum Funeral Home of Jackson with Rev. David Downton officiating. Burial in Fairmount Cemetery.
---
 Ruth Loring Thompson-Stevens
November 2, 1915 ~ July 26, 1986
---
 Muriel Church-Kruger
February 2, 1916 ~ November 27, 1996
---
 Adelaide Brandes-Hohorst
January 5, 1915 ~ July 8, 1992
---
 Gilbert Joseph Manion
February 6, 1913 ~ November 1, 1992
---
 John Henry Christiana
July 26, 1915 ~ December 10, 2006
---
 Vergil Smith
September 14, 1914 ~ January 27, 1996
---
 Frederick Gibson
March 19, 1914 ~ July 21, 1997
---
 Walter Bierman
January 24, 1916 ~ March 20, 1998
---
 Manley Clark Ackerman
October 9, 1915 ~ August 8, 1987
---