---
Class of 1935 In Memoriam
---
Lois Bishop-Oakley
February 26, 1918 ~ August 2016
Oakley, Lois B. – Brighton: Passed away peacefully at home on Wednesday, August 17, 2016 at the age of 98. Lois is predeceased by her husband, Wilbert "Bill" Oakley, Jr.; son, Richard "Dick" Oakley and sister, Ruth Bishop Petersen. She is survived by her children, Bill (Elaine) Oakley, Kathy Oakley Evans and Stephen (Mary Ann) Oakley; daughter-in-law, Deborah Reale Oakley; grandchildren, Bill (Meagan) Oakley, Jennifer Oakley, Richard (Chelsea) Oakley, Kaitlin (Matthew) De Franza, Meaghan (Timothy) Hanss, Benjamin Oakley; great-grandchildren, Molly, Karl, Thomas, Aidan, Elise, Owen, Easton and Cassandra.  Her family would like friends to join them for a Memorial Visitation Saturday, September 3, 2016 from 2-4PM at Jennings, Nulton & Mattle Funeral Home, 1704 Penfield Rd., Penfield. In lieu of flowers contributions may be directed to the American Heart Association in memory of Richard P./Lois B. Oakley.
---
Ruth Fleischman-Reitz-Lehman
April 11, 1918 ~ March 10, 2009
Ruth M. Lehman, 90, a resident of Manor Hills died on Tuesday, March 10, 2009 at Jones Memorial Hospital. She was born April 11, 1918 in Wellsville the daughter of Carl and Marie (Kruger) Fleischman. On August 2, 1941 in Wellsville she married Donald S. Reitz who predeceased her on August 31, 1972. On June 27, 1981 in Wellsville she married Robert A. Lehman who survives and who is a resident of the Wellsville Manor Care Center.  Ruth was a 1935 graduate of Wellsville High School. She was formerly employed at Chapman's Furniture Store in Genesee, PA and Rockwell's Department Store in Wellsville. She was a life member of the Trinity Lutheran Church in Wellsville, a member of the Lutheran Fellowship Group; Ladies Aide, Altar Guild, Rehma Prayer Group, Friendship Bible Coffee and the Wellsville Senior Citizens. She also was a volunteer at Jones Memorial Hospital and the David A. Howe Public Library.  Surviving in addition to her husband is a daughter, Donna (Bruce) DeForest of Millsboro, DE, two sons, Karl (Sherry) Reitz of Laconia, NH and Norman (Julie) Reitz of Rochester, NY, a step daughter, Kay (Thomas) Allen of Wellsville, 12 grandchildren, 9 great grandchildren and several nieces & nephews. She was predeceased by a brother, Richard Fleischman in 1990 and a sister, Leona Rogers in 1965.  Friends are invited to call on Saturday, March 14th from 12:00 noon to 2:00 pm at the Trinity Lutheran Church, 470 N. Main Street, in Wellsville. The funeral will follow visitation at 2:00 pm in church with Rev. Robert Morris presiding. Burial will be in Woodlawn Cemetery. Memorial suggestions include the Trinity Lutheran Church or the Wellsville Volunteer Ambulance Corps.
---
 Commander John Hobart Rockwell
March 29, 1919 ~ February 13, 1956
US Navy WORLD WAR II – KOREA
Graduate USNA Class of 1940
Awards: Navy Cross, Distinguished Flying Cross, Air Medal
Hob Rockwell's body found in wrecked jet, leaves five children. The body of Commander John Hobart Rockwell, Jr. has been removed from the wreckage of his crashed Navy jet plane in the snow covered mountains 30 miles north of Fallen, Nev. The crash happened Monday evening as Cmdr. Rockwell engaged in gunnery practice on the Black Rock range. "Hob", as he was best known in Wellsville, was one of the Navy's speed record holding jet pilots. He was born in Wellsville March 29, 1919 a son of J. Hobart Rockwell, Sr. and Mary Higgins Rockwell. He Was graduated from Wellsville High School in 1935 and from the U. S. Naval Academy in 1940. His father is also a graduate of the Naval Academy and is retired with the rank of captain. During World War II, "Hob" was awarded the Navy Cross and a gold star in lieu of a second Navy Cross, while he led a flight of carrier-based dive-bombers in the Pacific and Mediterranean. In 1942, he was commended for rescuing a seaman from drowning at Balboa in the Canal Zone. His parents now live in Rochester where Mr. Rockwell is an insurance executive. "Hob" was married Aug. 31, 1942 in Brooklyn to Phyllis Mary Butler of California. Mrs. Rockwell and her late husband were making their home in Alameda, Calif, with their five sons: John Hobart III', Peter, Stephen, Gregory and Timothy who range from 14 months of age to 11 years. Other survivors are his parents and five brothers: Edward, of Rochester; Richard of Newark, N. Y.; Dr. Paul Rockwell of Wellsville, Lieut. James Rockwell of Ft. Bragg, N. Car. and Joseph who is stationed in Munich, Germany with the U. S. Army as a paratrooper. Dr. Rockwell is presently enroute to California to attend services. Each of the five brothers has been in military service and Lieut. James Rockwell is a graduate of the U. S. Military Academy at West Point. The body is being taken to Alameda where a Funeral Mass will be said Monday morning. Burial will be in the National Cemetery at San Francisco.
---
 Ruth Doris Heinemann-McLaughlin
July 13, 1917 ~ March 2, 2007
---
John O. Barnett
February 17, 1916 ~ January 15, 2007
---
William E. Magner
April 4, 1917 ~ November 16, 2010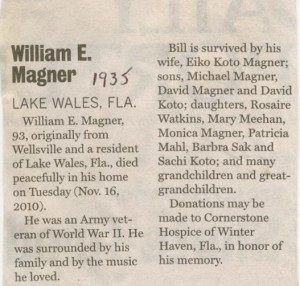 ---
 Virginia E. Vossler-Scott
December 29, 1919 ~ November 21, 2014
Virginia E. Vossler Scott, age 94, formerly of Petrolia passed away on Friday November 21, 2014 at the Highland Health Care Center. She was born on December 29, 1919 in Wellsville to Johann and Armena (Kimble) Vossler.   Virginia was a lifelong resident of the Wellsville area who graduated from Wellsville Central High School in 1935. She retired from the Wellsville Daily Reporter in the early 1980's as a proof reader. Virginia was a member the First Trinity Lutheran Church and the Dorcas Guild of Wellsville, The Business and Professional Women and was a life member of the Petrolia Fire Department Auxiliary. She loved animals and was an excellent cook who enjoyed entertaining with her delicious meals and scrumptious pies. Virginia delivered meals on wheels and did not hesitate to help her friends and neighbors. She was an asset her Petrolia Community and will be sadly missed.  She is survived by 3 sons, Jerry E. Jensen of Arizona, Garry W. Scott of Wellsville and James D. (Susan) Scott of Bolivar; 3 grandchildren, Jody (Mike) Stone of Arizona, Marti Jensen of Arizona and Adam (Jennifer) Scott of Bolivar; 3 great grandchildren, Zachery Jensen of Arizona, Kennedy Scott of Bolivar and Isaac Scott of Bolivar; several nieces and nephews.  In addition to her parents, she was predeceased by a sister, Josephine (Vossler) McPheters in 1971; a brother, Warren R. Vossler in 1995 and a granddaughter Angela Scott Pounds in 2008.  At Virginia's request there will be a private grave side service in Woodlawn Cemetery. In lieu of flowers memorials in her name may be made to the Allegany County SPCA.
---
Eileen Graves-Washburn
December 15, 1915 ~ ?
---
Jane VanDusen-McEnroe
 August 25, 1917 ~ October 27, 1987
---
 Helen Wilson-White
---
 Capt. Jack Curtis Young, USN
January 22, 1918-June 26, 1911
Captain Jack Curtis Young, USN (Ret.) Longtime resident of Seal Beach, Jack Curtis Young died June 26, 2011 at the age of 93. From New York State to Seal Beach, and various points around the world, Jack's life was filled with dynamic, challenging, and special times. The "Great Depression" led his parents, John E. Young and Nellie Blank, to move from his birthplace in Easton, Pennsylvania, to Wellsville, New York, for better economic opportunities. This change opened a major door in Jack's life as he won a coveted New York senatorial appointment to the US Naval Academy, where he graduated in the top of his class of 1939. At that time President Franklin D. Roosevelt commissioned him an ensign. Jack's first tour of duty was aboard the USS Phoenix, which was berthed in Long Beach. This became the catalyst for a chance blind date with Helen Wise. Helen and Jack hit it off marvelously and so much so that, following Jack's transfer to flight training school at the Naval Air Station in Pensacola, Florida, they were married there far from family and friends. It was an adventure together that began as Helen traveled, alone, by the Super Chief from Union Station in Los Angeles, to be with her Jack. To this seemingly easy trip was added a brush of excitement, and a change of wedding plans, as Helen's train was sidetracked for over a day to allow World War II
troop trains to pass. Thus, their magic wedding date became December 24 which Jack celebrated every Christmas Eve with a camellia corsage for Helen. In May, 1942, Jack was appointed a naval aviator and sent to fight in the Pacific Theater. He was a member of the now legendary "Greatest Generation" that emerged proud from the horrors of World War II. Following the war, Jack served on land, sea, and in the air on both U.S. coasts and Japan. In 1962, he returned to Long Beach to command the USS Cacapon (AO-52). In 1963, the family moved to Brunswick, Maine, where Jack served two years as the Commander of Fleet Air Wing 3. The family also joined him for two tours in Europe, including Naples, Italy, and Rota, Spain, where notably from 1965 to 1967 he was commander of US Naval Activities (CNA) for all of Spain. Jack's final US Navy
career duty station was as chief of staff, 13th Naval District, at the Sand Point Naval Air Station in Seattle, Washington. Jack retired after thirty years in the Navy with the rank of captain on July 1, 1969. At this time he and Helen chose to settle in Seal Beach near Helen's large family of four sisters and one brother: "The Wise kids" of Long Beach. For the next 10 years Jack also enjoyed a second career as a trust officer with the Bank of America. Then as Jack's business career wound down, he began to indulge more in his favorite activities, which wonderfully included ballroom dancing with Helen, cruising together 35 times, gardening, and his lifetime habit of daily walking. On his walks through his lovely Seal Beach neighborhood he would visit with the children and their families and often share some of his prized homegrown tomatoes. Jack's younger sister, Gene Young of Peru, Illinois, recalls the adventures of her brother with a special fondness noting his very definite political views and often "hard-nosed" evaluation of life today. His two daughters, Pamela Jean Thames of Westminster, California, and Margaret Mary (Peggy) Etchevers of Seattle, Washington, with her husband, Santiago, and children, Marc and Maialen, rounded out Jack's full life with love and appreciation for his honesty, integrity, and sense of duty. Helen Wise Young, his wife, predeceased him on January 27, 2009. A private gathering of family and friends will be held Saturday, July 23. Remembrances may be made to the Salvation Army or to a charity of your choice.
Published in the Long Beach Press-Telegram on July 5, 2011
---
 Alice Merry-Ballerstein
 June 12, 1914 ~ December 30, 1998
Alice J.

Ballerstein

,
Greece: February 8, 2010 at age 93. Predeceased by her husband, Erwin O. Ballerstein. She is survived by her children, James (Maureen) Ballerstein, Sabra Ballerstein, David (Judy) Ballerstein, Peter (Linda) Ballerstein & Mark (Linda) Ballerstein; grandchildren, Justin, Lisa, Brooke, Eileen, Andy, Maura, Ben & Michelle; great-grandchildren, Beatrix & Rebecca; brother, Paul (Sylvia) Merry; sister, Ruth Radtke; several nieces, nephews and cousins; many dear friends. Friends may call Thursday, 4-7 P.M. at Vay-Schleich & Meeson Funeral Home, 1075 Long Pond Road. Her Funeral Service will be held Friday, 11 A.M. at Hope Lutheran Church, 1301 Vintage Lane. Interment will follow the service in Riverside Cemetery. In lieu of flowers, contributions may be made to Hope Lutheran Church, 1301 Vintage Lane, Rochester, NY 14626 or St. Jude Children's Research Hospital, 501 St. Jude Place, Memphis, TN 38105 in her memory.
---
 Virginia Sarah Lewis-Graves
May 16, 1915 ~ September 13, 1983
---
 Clara Jane Cochran-Hyslip
January 2, 1918 ~ April 16, 2000
---
 Madeline Charlotte Merry-Dolan
June 12, 1914 ~ December 30, 1998
---
 Bernadine Veronica Gordon-Smith
October 19, 1916 ~ July 15, 1988
---
Regina Gonter-Troy
May 30, 2018 ~ ?
---
 Georgia Lehman-Kane
 February 3, 1917 ~ September 1, 2007
Georgia E. Kane was a working professional in Allegany County long before it was common for women to have a career outside the home. As a registered nurse, she chose to spend more than half of her 39 year career caring for the poorest in the county. She died Saturday, September 1, 2007 after a lengthy illness, at the Wellsville Highland Healthcare Center. She was 90 years old.  Georgia was the only child born to George & Iona Feller Lehman of Wellsville. After graduating from Wellsville High School, she attended nursing school at Buffalo General Hospital, where she graduated in 1938. After working for Jones Memorial Hospital in Wellsville, she earned a certificate in public health, and in 1951 began her new vocation as a public health nurse with Allegany County Department of Health. In this capacity she distinguished herself with her service in working with the county's poor, making routine home visits to new mothers and their infants and caring for the sick, injured and elderly who were homebound. Upon her retirement in 1977, Wellsville Mayor Robert Gardner declared January 18, 1978 "Georgia Kane Day" in the Village of Wellsville in appreciation of her years of service. The same year she graduated from nursing school, Georgia followed in the footsteps of other women in her family by joining the American Legion Auxiliary and the Women of the Moose (Lodge 601), both in Wellsville. She also was a member of the Jones Memorial Hospital Auxiliary and the Altar & Rosary Society of Immaculate Conception Church.  In 1941 she married Wayne Michael Kane at Wellsville's Immaculate Conception Church. They made their home on a farm on Meservey Hill. He predeceased her March 9, 1967.  She is survivied by her only child, Stephen (Jennifer) Kane of Olean, four grandchildren, Richard (Elizabeth) Kane of Wellsville, Thomas (Julie) Kane of Olean, Audra Kane of Buffalo and Jerod Kane of Prescott, Arizonia, and five great-grandchildren.
---
Edwin B. Pickens
January 12, 1917 ~ February 28, 2001
---
 Dorothy Elizabeth Hubertus-Bastian
November 9, 1916 ~ June 23, 2005
Dorothy E. Bastian, formerly of Merriam Heights, passed away on June 23, 2005 at the Wellsville Manor Care Center. She was born on November 9, 1916 in Wellsville to Thomas and Jeanette Calbes Hubertus. On April 12, 1937 in Wellsville she was married to Edward C. Bastian who predeceased her in 1944. Dorothy was a life long resident of Wellsville. She attended Wellsville High School and enjoyed soccer, basketball and track while in school. She was employed by the Candy Kitchen, Pickup's Hotel, Davies and retired from C.E. Air Preheater after 23 years of service. Dorothy loved to cook, bake pies and play cards and was a member of the Immaculate Conception Church. Survivors include: a son Edward [Barbara] Bastian of Wellsville; 3 grandsons MSGT Terry [Shawn] Bastian of McChord Air Force Base in Washington, William [Nancy] Bastian of Wellsville and Kennon Bastian of Minnesota; 2 step grandchildren, 7 great grandchildren, 2 step great grandchildren and several nieces and nephews. Dorothy was predeceased by 2 sons: Terry Bastian in 1963 and Jan Bastian in 1997; 4 brothers Franklin, Leslie, William and Roy Hubertus and sister Amelia Seager. Friends are invited to call on Sunday from 2-4 & 7-9 pm in the J.W. Embser & Sons Funeral Home in Wellsville. A Prayer Service will be held on Monday at 10:30 am in the Funeral Home followed by Mass of Christian Burial to be celebrated at 11 am in the Immaculate Conception Church with Reverend Dennis Mancuso. Burial will be in Sacred Heart Cemetery and memorials may be made to the David A. Howe Library.
---
 Rhea Doris Ericson-McEnroe
August 15, 1917 ~ December 1, 1988
---
Kenneth Raymond McClure
September 16, 1916 ~ September 24, 2006
---
 Marian Elizabeth Kruger-Parks-Folwell
May 20, 1917 ~ June 2, 1991
---
 Dorothy  Elane Wilson-Perkins
September 20, 1917 ~ August 17, 1996
---
 Doris Allen-Whitaker
May 4, 1918 ~ May 3, 2003
---
 Bernard Jeremiah Shine
September 22, 1916 ~ August 16, 1945
---
 Mary Catherine Flanagan-Reed
May 15, 1918 ~ May 1992
---
 Florence Adelle Phillips-Sweet
December 6, 1917 ~ August 23, 2013
Florence A. Sweet, 95, formerly of 22 Johnson St., passed away Saturday (Aug. 24, 2013) in the Highland Park Nursing Center following a long illness.   She was born in the town of Willing on Dec. 6, 1917, the daughter of Frank and Jessie Witter Phillips. On Feb. 14, 1942, in Wellsville, she was married to Milton H. Sweet, who predeceased her July 13, 2006.   She was a graduate of Wellsville High School and Alfred University.   Before starting her family, she was a reporter for the Hornell Evening Tribune newspaper. For many years, she was active in the Order of the Eastern Star, Evergreen Twig of Jones Memorial Hospital, the AAUW, DAR and was a lifetime member of the Monday Club.   She was very active in many of the local civic organizations and was always willing to arrange their publicity for the local newspapers. In 1974 the Patriot honored her as the ""Woman of the Year.""    She was a lifelong member of the Wellsville First United Methodist Church.  Surviving are a daughter, Diane (Daniel) Hall of Canandaigua; three sons, David J. (Bonita) Sweet of Penfield, Stephen Sweet of Wellsville and Philip (Kathy) Sweet of Wellsville; 10 grandchildren; several great-grandchildren; and several nieces and nephews, all who are left with wonderful memories of how special they were to her.   She was predeceased by her parents; husband; and sisters, Myrtle Erwin and Betty Crittenden.   Services will be held today (Aug. 27, 2013) at the Mulholland-Crowell Funeral Home from 2 until 4 p.m., at which time services will be held with the Rev. Stanley Scoville officiating. Burial will be in the Woodlawn Cemetery in Wellsville at the family's convenience.  Memorials may be made to the First United Methodist Church of Wellsville .
---
John Charles Shine
February 4, 1916 ~ February 19, 2004
J. CHARLES SHINE – Former Allegany County Legislator, 88, of Williams Ave. died Thursday, February 19, 2004. Born Feb. 4, 1916 in Wellsville, he was son of Timothy J. and Jennie (Murphy) Shine. On June 6, 1945, in Tuscaloosa, Ala., he married Kathleen Lomasney, who died March 26, 1999. He was a graduate of Wellsville High School, class of 1935. He attended Duquesne University and Alfred University. Mr. Shine enlisted in the U.S. Army in November 1943 and was commissioned an officer in the 35th Infantry Division, Company 137. He served in combat in France in 1944, where he was seriously wounded. He received the Purple Heart and the Jubilee of Liberty Medal in recognition for his service during Operation Overlord. He was honorably discharged as a captain in 1946.  He was a self-employed businessman, owning and operation Shine's Liquor Store in Wellsville from 1946 to 1976. He was later employed by the Joyce Pipeline Corp. of Andover. He was active in the Democratic Party in Allegany County and from 1970 to1990, he was an Allegany County Legislator. In 1961, with a small group of parents, Mr. Shine formed the local chapter of the Allegany Arc. He had a love of the Pittsburgh Steelers and his years at Duquesne and cultivated a friendship with former owner Art Rooney. With his interest in sports, he decided to generate fund-raising for the Allegany Arc with the development of a Sports Night, bringing sports personalities to Wellsville including Joe Louis, Billy Conn, Gale Sayers, "Mean" Joe Green, Alex Karras, Rocky Bleier, Reggie McKenzie, Bob Lanier, Earl Morrell, "Frenchie" Fuqua, Ray Mansfield and Mote Ledbetter. In appreciation of his efforts, the Allegany Arc founded the "Charlie Award in 1990 in Mr. Shine's honor to recognize people's service to the community. In 1995, Allegany Arc dedicated their Habilitation Center in his name. The Wellsville Elks Club named Mr. Shine "Man of the Year" in 1969. The Olean Times Herald recognized his efforts with the honor of Sports Man of the Year in 1977. Mr. Shine served on the Allegany State Park Recreation and Historic Preservation Commission from 1988 to 1999. He was appointed by the governor to the Board of Visitors of J.N. Adams Developmental Center, serving on the board for many years. He was a life-long member of Immaculate Conception Church. He was also a member of American Legion Post 703, Veteran of Foreign Wars Post 2530, BPOE 1945, St. Vincent de Paul Society and the Knights of Columbus. Surviving are six children, Timothy (Molly) Shine of Fairport, Gloria (David) Mack of Brockport, Kathleen Shine of Willoughby, Ohio, James Shine of Wellsville, David (Theresa) Shine of Wickliffe, Ohio and Eileen (Joseph) Schaffner of Bolivar; a brother in law, Joseph Quigley of Duluth, Minn.; three nephews, James Quigley and Thomas (Robin) Quigley both of Duluth, and Joseph (Patti) Quigley of Pittsburgh, PA., 10 grandchildren and many cousins. He was predeceased by a brother, William Richard; and two sisters in law, Winifred Lange and Eileen Quigley. Friends may call from 7 to 9 p.m. Saturday and from 2 to 5 p.m. Sunday at the J.W. Embser Sons Funeral Home in Wellsville. Funeral services will be held Monday, beginning with a prayer service in the funeral home at 11 a.m. and followed by a Mass of Christian Burial at 11:30 a.m. at Immaculate Conception Church. Monsignor Leo McCarthy will officiate. Burial will be in Sacred Heart Cemetery, Wellsville.  Donations may be made to the Allegany Arc or to a charity of the donor's choice.
---
Elizabeth Ann Shine-Baker
January 20, 1918 ~ May 16, 2002
---
Donald Francis Wixson
November 11, 1918 ~ October 19, 1998
---
Florence Harder-Carpenter
May 2, 1918 ~ December 27, 2007
Florence R. Carpenter, Rochester: Passed away on December 28, 2007. Survived by 4 children: Lee (Thomas) Lockwood of Carlisle, MA., Susan (George) Geotschius of Wellsville, NY., Clayton J. (Holly) Carpenter of Marshfield, MA.; Michelle Carpenter (Timothy Bradley) of Webster, NY.; 11 grandchildren; a brother Robert (Laura) Harder of Genesee, PA.; three sisters-in-law; several nieces and nephews and many special friends including those who cared for her at St. John's Home.   Friends may call on Sunday from 2-4 and 7-9 pm in the J.W. Embser Sons F.H. on West State Street in Wellsville. A funeral service will take place on Monday at the Christian Temple Church in Wellsville at 2 pm. Memorial contributions may be made to St. John's Home, 150 Highland Ave., Rochester, NY. 14620, for use on Hastings 3.  
---
Lester Henry Dye
July 15, 1916 ~ August 11, 2000
---
Louise Marie Wesche-Browning
March 20, 1915 ~ July 11, 1992

---
Anita Hulburt-Seaburg
---
Ruth Cornelius-Fanton
April 4, 1918 ~ February 2, 1998
---
Juanita Buckholz-Stanley
March 24, 1917 ~ August 9, 2008
Juanita B. Stanley, 91, of Warren died at 10:35 a.m. Saturday, Aug. 9, 2008, at Imperial Skilled Care Center.  She was born March 24, 1917, in Elmira, N.Y., the daughter of the late Frank F. and Ethel Mae Rushmore Buckholtz. Juanita was a homemaker. She formerly worked at Kautz Heating in Youngstown and also at Carlisle's in Niles. She was a member of the Ali Baba Cauldron 31. She enjoyed reading, crossword puzzles and sewing.  Survivors include her daughters, Jo Ann (Glenn Sr.) Wilson of Bristolville and Karen (Carmen Sr.) Zone of Chino Hill, Calif.; six grandchildren, Melissa, Kevin and Carmen Jr. Zone, Randy (Amy), Norman (Terri) and Glenn M. Jr. Wilson; eight great-grandchildren, Aubrey, Thomas, Austin, Andrew and Samantha Zone, Kaylee Robinette, Ashley and Michael Wilson; a stepbrother, Bruce Reuning, and a stepsister, Mary Ellen Perry, both of Wellsville, N.Y.  Other than her parents, Juanita was preceded in death by her husband, Richard E. Stanley, whom she married on Nov. 30, 1939. He preceded her in death on Aug. 25, 1975; her stepfather, Henry Reuning and a stepbrother, H. J. "Jack" Reuning Jr. and stepsister, Roberta Rugaber.   Committal services will be private on Thursday, Aug. 14, 2008, at Crown Hill Burial Park in Vienna.  The family requests in lieu of flowers donations be sent to Bristolville United Methodist Church-for Hand Bell Choir at P.O. Box 234 Bristolville, Ohio 44402.
---
William McEnroe
February 25, 1917 ~ March 20, 1986
---
John Charles Major
September 3, 1917 ~ December 31, 1988
---
 Paul Wilton Williams
November 18, 1916 ~ July 7, 2002
---
Robert Francis McCarthy
August 4, 1917 ~ July 18, 1995
AC U.S. NAVY – WORLD WAR II
---
Mary Eleanor McCarn
April 20, 1916 – April 24, 1998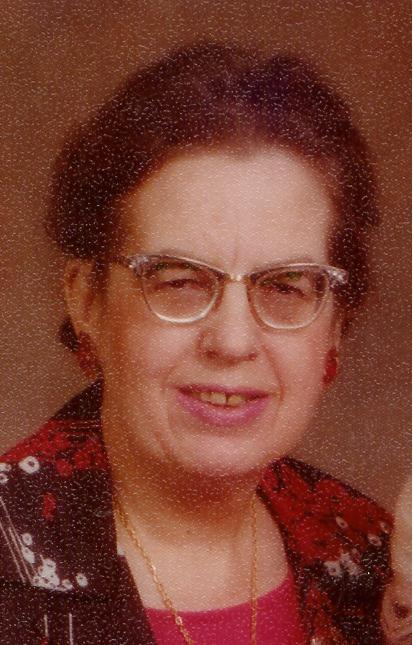 ---
Ruth Jones-Leberge
October 29, 1917 ~ December 19, 2011
Ruth LaBerge, Flagstaff, AZ: Died peacefully on Saturday, February 19, 2011 at age 93 at The Peaks, Senior Living Community. Ruth survived her loving husband of 64 years. She is survived by her sons, Gary (Mary Beth) of Palmyra, NY & Peter (Sharon) of Riverside, CA; daughter Malene of Flagstaff, AZ; sister Lucille Frank of Wellsville, NY; 5 grandchildren; 3 great grandchildren. Ruth was born October 29, 1917 in Wellsville, NY to Olin & Anita Jones. She was married to J.E. (Pete) LaBerge on July 4, 1942 in Wellsville, NY. She was a 55 year member of the Western Presbyterian Church of Palmyra, NY, where she lived after her marriage. She worked for 21 years for Exxon-Mobil as an executive secretary. In 1958, she & her husband founded LaBco of Palmyra, Inc. a metal fabricating business that continues to prosper under her eldest son, Gary, & where Ruth worked for many years handling the accounting. Private burial will be held in Wellsville. Donations in her memory may be directed to the Western Presbyterian Church Memorial Fund, 101 E. Main Street, Palmyra, NY 14522.
---
Clara Ballerstein-Stisser
March 18, 1918 ~ December 5, 2008
---
Ruth Theodora Zschiegner
May 26, 1914 ~ January 1, 1989
---
Genevieve Clark-Rees
March 24, 1918 ~ August 25, 1995
---
David Forrest Dassance
June 2, 1917 ~ February 22, 2008
---
Alice Anita Knox-Jones-Galvin
September 13, 1917 ~ May 3, 2007
---
Harold Frederick Weinhauer
Mary 15, 1915 ~ December 5, 1994
---
Edward Randall Johnson
March 13, 1916 ~ June 26, 1994
---
Lois Perl Frederick-O'Connor
June 17, 1916-July 8, 1999
---
Georgia Graham-Sparler
December 7, 1917 ~ January 31, 2012
Georgia (Graham) Sparler, 94, died at 6:35 p.m., Tuesday, January 31, 2012, at her home. She was the wife of the late Daniel John Sparler who died on July 12, 2000. Georgia was born on December 7, 1917 in Wellsville, NY, the daughter of Henry and Elizabeth Trahey Graham. She had two brothers, James and Louis, both deceased, and three sisters, Martha Fisher (deceased), Frances Duke (husband Edward) of Mason, MI, and Cathleen "Kiki" Ballerstein of York. She is also survived by a sister-in-law, Rhoda Oakley of Baltimore, Md. Georgia's five children will miss her greatly: Judith Lauer and husband Robert (Frederick, Md.); Susan Kennedy and husband John (York); Jack Sparler and wife Deb (York); Mary Eileen Swaney and husband Steve (Daniel Island, SC); Lisa Koch and husband Bob "Herb" (York). Georgia's grandchildren and great-grandchildren include: Brian (wife Bonnie) Lauer and their three children Katie, Kim and Dan; Tim (wife Jane) Lauer; Betsy (husband John) Manley and their daughter Maggie; Jeff (wife Kate) Kennedy and their two sons Patrick and Daniel; Molly (husband Brian) Walsh and their two children Zoe and Jake; Tim (wife Christy) Kennedy; Kevin (wife Kristen) Kennedy; Becky (husband Matt) McMenamy and daughter Maya; a step-grandchild, Zac Frey (deceased) and two step-grandchildren: Madison and Alla; Chris (wife Amber) Swaney and son Aiden (and step-children Joey and Lilly); Meghan Swaney; Grant Koch, Addie Koch. Georgia met Dan on a blind date while she was working at Howe Public Library in Wellsville, N.Y., and Dan was in school at Alfred University. They married in 1941 and lived in Niagara Falls, N.Y., and Hempstead, N.Y. before settling in York, in 1946. They had been married 59 years until Dan's death in 2000. Georgia enjoyed reading and gardening and was an accomplished knitter. She and Dan enjoyed dancing and traveling, especially cruises. She volunteered at St. Patrick School library for many years and was a member of St. Patrick church and Catholic Women's Club of York. She especially loved family visits and reunions and was close to her grandchildren and many nieces and nephews. A visitation with family will be held at 10:30 a.m. on Saturday, February 11 followed by an 11:30 a.m. Funeral Mass at St. Patrick Catholic Church, 231 S. Beaver St., York. Burial will be at the convenience of the family. Memorial contributions may be made to York Catholic High School, 601 E. Springettsbury Ave, York, PA 17403; or St. Patrick Church, 231 S. Beaver St., York, PA 17401. The John W. Keffer Funeral Home and Crematory, Inc., 902 Mount Rose Ave., York, is in charge of arrangements. The family greatly appreciates the wonderful and loving care Georgia received the last few years by VNA Community Services and, more recently, VNA Hospice of York.
---
Ruth Davie-Smith
May 5, 1917 ~ March 24, 2015
Ruth D. Smith, 97 of Inglis passed away Tuesday,  March 24, 2015 at her home under the care of her family and Hospice of Citrus County and the nature coast. She was born May 5, 1917 in Wellsville, NY to the late Paul and Beatrice (Smith) Davie and came to Florida 25 years ago from there. She was a graduate of Alfred University and maintained a lifelong interest in her alma mater. She was married for 59 years to the late George Smith a WWII US Army Veteran who served in the 82nd Airborne. Always ready to entertain she and George held many gatherings of family and friends at their house on the banks of the Genesee River. As an elementary librarian, in the Wellsville Central schools, she shared her love of books with many children. Music was an important part of her life as she was the church organist at the Christian Temple for many years and continued to sing in the church choir of the Parson's Memorial Presbyterian Church until shortly before her death. She also enjoyed her membership in the Yankeetown Garden Club and the Yankeetown Women's Club Left to cherish her memory are her son Robert Smith, daughter Barbara Wilman, granddaughters Jessica Smith, Abigail Liu and family and Emily Gray and family, a sister Elizabeth Dickerson and sister in law Mrs. John McCracken. A celebration of her life was held at 11 AM on Monday March 30th at Parson's Memorial Presbyterian Church. Strickland Funeral Home with Crematory of Crystal River is assisting the family with arrangements.
---
Milton Grossman
October 7, 1917 ~ January 25, 1993
---
Chloe Horton-Fanton
July 8, 1915 ~ January 13, 2003
---
Glenys Maxine Forsythe-Brundage
February 7, 1918 ~ August 1991
---
Caroline Braunschweiger-Browning
April 20, 1915 ~ August 19, 2014
---
Thomas Dean O'Connor
December 23, 1914 ~ April 4, 2003
---
Genevieve Louise Seth-Eberle
December 22, 1917 ~ February 24, 2012
 Genevieve Louise (Seth) Eberle 1917 – 2012 Genevieve passed away peacefully on February 24, 2012, in El Cajon, CA, at the age of 94.
---
Hope Horton-Hulse
October 30, 1915 ~ February 2, 2002
Hope Hulse, 86, of 16 East Ave., in Andover, died Saturday (Feb. 2, 2002) at Jones Memorial Hospital in Wellsville.  She was born Oct. 30, 1915 in West Union, daughter of Leon and Hope Ward Horton. She was married to Willard Hulse, who predeceased her in 1976. Hope attended Wellsville High School and had lived most of her life in Greenwood. A homemaker, she was a member of the Andover Blessed Sacrament Church, the West Greenwood Grange, St. Mary's Altar & Rosary Society of Rexville, the Andover Senior Citizens and Greenwood Senior Citizens.  She is survived by son, Howard (Patricia) Hulse of Greenwood; son, Burdette (Patsy) Hulse of Greenwood; daughter, Barbara (Calvin) Graves of Wellsville, son, Leo (Patricia) Hulse of Hornell; 14 grandchildren; 24 great-grandchildren; several nieces and nephews; and a sister, Mary (Roy) Krenzer of Olean. There will be no prior calling hours. Friends are invited to attend a memorial funeral mass at the Andover Blessed Sacrament Church on Wednesday at 11 a.m., with Rev. Gene Ulrich of St. Brendan's Church of Almond officiating. Burial will be at Gate of Heaven Cemetery in Andover. In lieu of flowers, the family requests memorials to the Andover Volunteer Rescue Squad, PO Box 726, Andover, N.Y. 14806 or to the Blessed Sacrament Church, 1 Church St., Andover, N.Y. 14806.
---