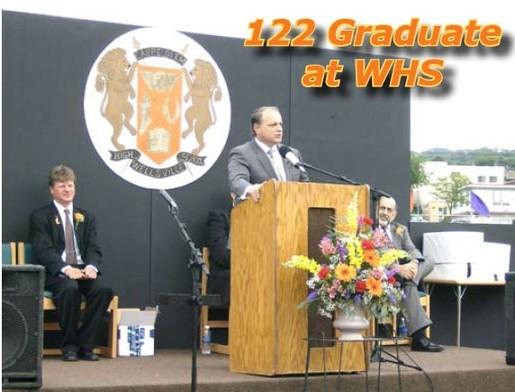 A total of 120 seniors graduated from Wellsville Central School during the 125th Commencement.
U.S. Rep. Eric Massa (shown above) was the guest speaker. He told the graduates they must rebel more, question authorities more, and be willing to fail. Mr. Massa advised, "It is not successes in life that will make you a better person, it is the failures."
He went on to say, "Fall, stumble, skin your knees on the fields of life, and then get up and do it again. It is not how often you win, it is how often you fail, and come back and try again."
The congressman also told the audience about a legend surrounding the U.S. Marine Corps Memorial in Washington. He said a person walking around the memorial at night can sometimes count 13 hands raising the staff of the American flag on Iwo Jima in 1945. Only five Marines and one Navy medical corpsman were lifting the flag. The last hand, according to Rep. Massa, is God's.
He elaborated, "Never become so sure of yourself as to believe you do it on your own. Even as a nation, we will never achieve on our own."
Class Salutatorian Lauren Lindsay noted in her address, "I know I couldn't have made it soar without the love and support of my family."
Valedictorian Mariam Vonderheide (shown below) noted an inscription on the school's facade that reads 'Enter to learn, go forth to serve.'
She said she sees service as helping people in need, from small gestures to philanthropy. She quoted Dr. Martin Luther King Jr., who said, "Anyone can be great, because anyone can serve."