N. Thomas Barnes
October 16, 1935 ~ December 27, 2017
N. Thomas "Tom" Barnes, age 82, of 2 Meadow Brook Court passed away on Wednesday, December 27, 2017 at the Wellsville Manor Care Center. He was born in Wellsville on October 16, 1935 to Norton and Allena Jones Barnes. Tom was a lifelong resident of the Wellsville area who attended school in Petrolia and graduated from Wellsville High School in 1955. While in High School, Tom learned his lifelong trade of meat cutting at the former Scoville and Browns in Wellsville. After the closing of Scoville and Browns he became a meat cutter for White Hawk Meats in Eldred, Pennsylvania. Tom continued cutting meat while working full time at Air Preheater from where he retired as a Crane Follower. In his younger days Tom participated in amateur boxing, weight lifting, and he liked staying in shape. He enjoyed shooting pool with his good friend Jim Brown and pitching horse shoes in many area leagues. Tom had attended Church at the First Trinity Lutheran Church located in Wellsville. Survivors include, a son Jeffrey [Anne] Barnes of Bolivar; a daughter Cheryl [Eric Wohlers] Miles of Great Valley; four grandchildren, Jennifer Barnes, Heather Barnes, Courtney Barnes and Scott Miles; four great grandchildren, Koleston, Jordan, Addison, and Charlotte; an aunt, Rena Cowles; several nieces and nephews. He was predeceased by his parents; his step mom, Rowena Barnes; a brother, Jon Barnes; three sisters, Betty Jean Lynch, Phyllis Rosell, and Beverly Hillibrin; a step brother, Bob Hinckley; a step sister, Sheila Rothschild. Friends are invited to call on Saturday, January 6, 2018, from 12 noon to 2 p.m. at the J.W. Embser Sons Funeral Home in Wellsville. His funeral service will be held on Saturday at the conclusion of Calling Hours with Reverend Larry Allen presiding. Burial will take place in Knights Creek Cemetery and Memorials in Tom's name may be made to either the Hart Comfort House in Wellsville or to the .
Lynda Yvonne McFadden Kemp
January 9, 1938 ~ January 26, 2006

Harold Brown Jr.
January 18, 1935 ~ April 14, 2012
Harold F. Brown Jr. of the Stannards Road passed away after a brief illness on Saturday, April 14, 2012, at the Buffalo VA Center. He was born on January 18, 1935 in Wellsville to Harold F. and Helen Ruth (Willard) Brown Sr. On October 7, 1955 in Wellsville he married Louise E. LaPolt who survives.  Harold was a long time resident of Wellsville who served in the US Air Force from 1955 till 1959 as a Staff Sergeant. He worked for 33 years at Acme Electric from where he retired in 1999. Harold was a member of the First United Methodist Church of Wellsville, The University Lodge number 230 of the Free and Accepted Masons, The Royal Arch Masons Lodge number 143 and the American Legion Post 702. After his retirement he and Louise enjoyed to travel. They traveled with their camper to 46 of the lower 48 states, enjoyed two trips to Alaska and a trip to England and Scotland. Harold was an avid outdoorsman who liked to hunt and fish. He especially enjoyed fly fishing in the Genesee River. After returning to Wellsville he built his own work shop next to his home and became known to his neighbors as someone who was always available to help build or repair most anything. He will be remembered to many as a world class handyman. Surviving besides his wife Louise: a son, Todd F. (Marylise) Brown of Virginia Beach, VA.; a grandson, William Brown of Virginia Beach, VA.; 3 sisters, Kathi Twombly of Danbury CT., Susan Willard of Olean and Dorothy (Robert) Gibson of Hornell; several nieces and nephews.
 ANN BROWN-MCKINLEY
January 8, 1938 ~ March 27, 2017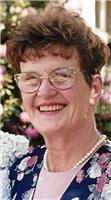 Ann B. McKinley, 79, of 152 Pine St., died Monday (March 27, 2017) at Jones Memorial Hospital, surrounded by her family.  She was born Jan. 8, 1938 in Wellsville, a daughter of the late Harvey and Mary (Brown) Brown. On Aug. 22, 1959, in Wellsville she married James M. McKinley, who predeceased her Nov. 4, 1999.  Ann was a graduate of the Immaculate Conception School, was a 1955 graduate of Wellsville High School and attended D'Youville College. She worked at various local businesses during her high school years and was employed by New York Telephone when she returned from college. After her family was grown, she owned and operated Frederick's Grocery and Delicatessen in Wellsville. Ann lived for her family and loved the family gatherings at the cabin on Brown Road. She was a member and faithful servant of the Immaculate Conception Church and enjoyed helping with various annual community and church events, especially the food booth at Immaculate Conception Fun Fair.  She is survived by five sons, Patrick McKinley, James (Tonya) McKinley and Michael McKinley, all of Wellsville, Dennis (Kathy) McKinley of Raleigh, N.C., and Timothy (Kim) McKinley of Anchorage, Alaska; four daughters, Mary George of Hornell and Maureen (Jason) Sibble, Margaret (Aaron) Whitehouse and Kate (James) Murphy, all of Wellsville; 21 grandchildren, Casey, Jaclyn, Keely, Brittany, Tessa, Michaeleen, Connor, Jimmy and Liam McKinley, Jill Speegle, Megan and Laura George, Jessica Bennett, Morgan, Mallory and Brooke Sibble, Sean and Jana Whitehouse, and Sarah, Richie and Gavin Murphy; seven great-grandchildren, with two on the way; three brothers, the Rev. William "Bill" Brown, OFM, of Peru, Michael (Mickey) Brown of Jamestown and Robert (Nancy) Brown of Arizona; and several nieces and nephews. She was predeceased, in addition to her parents and husband, by a son, William "Billy" McKinley; a brother, James H. Brown; and a sister, Loretta McKean.  Friends are invited to call from 2 to 4 and 7 to 9 p.m. Friday at the J.W. Embser Sons Funeral Home Inc. in Wellsville. A Mass of Christian burial will be celebrated at noon Saturday (April 1, 2017) in the Immaculate Conception Church in Wellsville. Burial will be in Sacred Heart Cemetery.
Sue Simpson Evans
November 4, 1937 ~ March 4, 2014
 Sue A. Evans, 76, of Fort Wayne, passed away Tuesday, March 4, 2014. She was born on November 4, 1937 in Wellsville, New York to the late Charles and Mabel (Wilcox) Simpson. She worked as a homemaker and greatly enjoyed being with her family and especially her grandchildren. Surviving family include her husband of 38 years, Lewis R. Evans, children, Butch, Rick, Connie, Michael, Cindy, David, Robert; 8 grandchildren; and several great grandchildren. Besides her parents, she was preceded in passing by her brothers, Don, Wesley, and Charles. A family gathering will be from 2:00 – 3:00 pm on Saturday, March 8, 2014, at Elzey-Patterson-Rodak Home for Funerals, Fort Wayne.

Beverly Starr-Raynor
April 20, 1937 ~ November 3, 2016
Beverly S. Raynor, age 79, of the Stannards Road, passed away on Thursday (Nov. 3, 2016) at Jones Memorial Hospital. She was born on April 20, 1937, in Wellsville, to Carlos and Onolee Davidson Starr. On June 10, 1967, in the Stannards United Methodist Church, she married Charles Raynor, who predeceased her on Nov. 2, 2012. Bev was a graduate of the Wellsville High School class of 1955. She began her nursing education at Geneseo and University of Buffalo and then completed her Associates Degree in Nursing from Elmhurst Hospital in Queens, New York City. While working at Elmhurst Hospital she met Charlie whom she married and together they raised two sons in Queens. Bev and, Charlie later moved to Wellsville to take care of her parents, Carlos and Onolee. She enjoyed traveling with her husband and her cousin, Barb Kalamets, knitting, and spending time with her grandchildren. She was a member of the New York State Nursing Association and attended the Trinity Lutheran Church in Wellsville.  Bev is survived by 2 sons, Charles Raynor II of Bartonsville, Pa., and Lawrence (Patricia) Raynor of Queens, New York City; 2 grandchildren, Rebecca Raynor and Kyle Raynor; several cousins, nieces and nephews.  Friends are invited to call on Friday (Nov. 11, 2016) from noon to 2 p.m. at the J.W. Embser Sons Funeral Home in Wellsville. A funeral service will held at 2 p.m. following the visitation with Reverend Kurt Schultz, Pastor of the Trinity Lutheran Church. Memorials, if desired, may be made to either the Wellsville Volunteer Ambulance Corps or to the S.P.C.A.

Gretchen Gardner Ramsey
December 7, 1938 ~ April 30, 2014
Mrs. Gretchen Gardner Ramsey, 76, passed away peacefully on Wednesday (April 30, 2014), at her home in Landrum, S.C. Born Dec. 7, 1938, in Wellsville, N.Y., she was the daughter of the late Raymond E. Gardner and Mary M. Gardner. Gretchen is survived by her husband, S. Paul Ramsey of Landrum, S.C.; son, S. Craig Ramsey of Washington, N.C.; daughter, Elizabeth Ramsey Middour; son-in-law, Stephen L. Middour; and 2 grandchildren, Benjamin C. Middour and Ava A. Middour of Mt. Pleasant, S.C.; a brother, Philip C. Gardner of Charleston, S.C.; sister, Cynthia G. Kidwell of Hampton, Va.; and many nieces and nephews. A lifelong learner, she was a graduate of Wells College, The Cleveland Institute of Art and Vermont College. She was a talented artist and was influential in the founding of the Art League of Hilton Head Island in 1971, serving as its first president. She taught art at Sea Pines Academy and served as the Dean of Students for several years. Other interests included gardening, yoga, reading, and quietly cultivating friendships. Her creative spirit and strong, yet gentle demeanor will be greatly missed by her family and friends.  Memorial and burial will be private. Contributions in her memory may be made to The Art League of Hilton Head Island, P.O. Box 22834, Hilton Head Island, SC 29925.

 Betty Yaw-Layfield
May 6, 1937 ~ February 10, 2016
Betty Jean Yaw Layfield passed away Wednesday (Feb. 10, 2016) at Jones Memorial Hospital, Wellsville, following a lengthy and courageous battle with COPD. Betty was born May 6, 1937, a daughter of the late Glenn and Loretta Yaw, in Canandaigua. Betty spent her early youth living in Naples until her family moved to Wellsville in the 1940s. She was a 1955 graduate of Wellsville High School. In 1956, she married Wilson "Bill" Layfield, who predeceased her in 2005. Betty was the mother of three sons, Joel (Kimberly) of Bolivar, John of Allentown and Glen (July) of Scio. Although she would have considered herself a lifelong resident of the area, she did spend a few years in Louisiana, Alabama and Virginia. In addition to her parents and husband, Betty was predeceased by her only sister, Carol Williams; a granddaughter, Melissa; and a great-grandson, Garrett. In addition to her sons and daughters-in-law, Betty is survived by 12 other grandchildren, Dean (Hope), Kristen, Lynne (Brad), Amber (Jeff), Joshua, Macey, Johnny, Job, Glen (Heather), Guy, Craig (Cayla) and Kyle (Krystal); and nine other greatgrandchildren. Betty is also survived by several nieces, nephews, many friends and business associates. Countless others knew her as "Mom," "Grandma" or "Aunt Bet." She was an active volunteer for a variety of youth programs — Scouts, youth league sports and ministries for children. In addition to her role as wife and mother, Betty worked in various jobs throughout her years. She worked a short time in the office at Worthington Corp. She was a teacher's aide briefly in Montgomery, Ala., and then obtained her Realtor's license and worked in real estate in Alabama. Returning to Allegany County in the 1970s, she helped her husband start Bill's Used Cars and continued to work in various other jobs. She again worked as a teacher's aide in Allentown (Scio Central School) and Wellsville (Trinity Day Care) in New York. She worked as a car salesperson for Harrison Ford in Wellsville, but she spent most of her sales career selling maintenance and manufacturing supplies for Bowman Distributions and Lawson Products, retiring at age 75. She also continued Bill's Used Cars with her son Joel and volunteered at her son John's Allegany Memorial Speedway, selling tickets until her health no longer permitted it. Betty was a member of the Scio Church of Christ and was a passionate supporter of cardiopulmonary rehabilitation programs at Jones Memorial Hospital. Calling hours will be from 2 to 4 and 6 to 8 p.m. Sunday at Scio Church of Christ. Funeral services will be at 1 p.m. Monday (Feb. 15, 2016) at the church. Burial will be in Maple Lawn Cemetery, Bolivar. Her son, the Rev. Glen Layfield, will officiate. Memorials may be made to the Scio Church of Christ or a charity of the donor's choice.

Ann Mumma-Fleischer
1937 ~ March 23, 2004
Ann Mumma Fleischer died Sunday (March 23, 2014) at Morrisville, Vt. She was the loving wife of the late Donald Fleischer and mother of Scott and Mike Fleischer (both deceased), Sarah Dunn of Morrisville, Vt., Elizabeth Pare' of Attleboro, Mass. and sister of Carolyn Elliott, P.O. 6054, Raleigh, NC 27628 and five grandchildren.
She was predeceased by her parents, Joe and Roberta Mumma who ran the Fassett Hotel and WLSV Radio Station for many years.
Bonnie Allen-Wheeler
June 21, 1937 ~ December 10, 2006
Mary Letha McCracken-Vaughn
June 14, 1936 ~ January 4, 2007
Donna M. Eldridge-Geffers
September 30, 1936 ~ October 24, 2008

 Donna M. Magee-Rahr
October 3, 1937 ~ January 17, 2009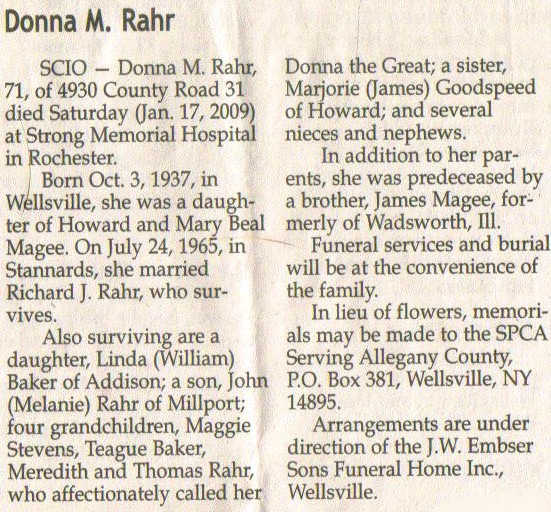 Ellie Hyslip Walker
August 4, 1937 ~ November 3, 2012
Ella "Ellie" Hyslip Walker of 25 Coats Street passed away at home on Saturday, November 3, 2012 after a three year battle with breast cancer. She was born August 4, 1937 in Wellsville the daughter of the late Mark B. and Clara Jane (Cochran) Hyslip Jr. On August 31, 1957 at St. John's Episcopal Church in Wellsville she married Richard E. Walker who survives. Ellie was a former long time resident of Meadowbrook Court in Wellsville and Rushford Lake. She wintered in Naples and Fort Myers Florida after retirement. She attended the Martin Street School in Wellsville and graduated from Wellsville High School; Greenbrier Junior College in Lewisburg, West Virginia and received her Master's Degree from Alfred University. She began her teaching career as a substitute teacher at various schools in Allegany County until she was contracted by Scio Central School where she taught for 22 years, retiring in 1992. She was a life member of Bata Sigma Phi Sorority and a member of the Wellsville Elks Lodge, the Wellsville Country Club and the Ladies Golf Association. She was a loving wife, mother and grandmother. Surviving in addition to her husband of 55 years are two sons, Robert C. (Voni) Walker and Richard M. (Tracy) Walker both of Wellsville, three granddaughters, Tricia (Bill) Smith of Elkridge, MD, Ashley Walker and Chelsea Walker both of Wellsville, two sisters-in-law, Barb Hyslip of Hart, FL and Marilyn Hyslip of Wellsville, a brother-in-law, Stanley Ruger of Florida and several nieces & nephews. She was predeceased by two brothers, Mark B. Hyslip III and John K. C. (Jack) Hyslip.   Friends are invited to call Wednesday, November 7, 2012 from 2:00 to 4:00 and 7:00 to 8:30 pm at the J. W. Embser Sons Funeral Home Inc. in Wellsville. A memorial service will follow visitation at 8:30 pm Wednesday in the funeral home Rev. Cole Gruberth presiding. Memorial donation can be made to the David A. Howe Public Library or any charity of the donor's choice.
Carol Fleschutz-Camp
June 6, 1937 ~ October 20, 2009
Carol J. Camp of Sayre, Pa., passed away on Oct. 20, 2008, after a long and courageous battle with cancer. She will be sorely missed by all who knew and loved her. Carol loved life and enjoyed being outdoors in her garden and volunteering countless hours for the Happy Tails Animal Shelter. She also loved spending time and playing tennis with her friends. Carol had an insatiable appetite for knowledge and even after her retirement from the Robert Packer Hospital Microbiology Department on Dec. 31, 1999, where she was the supervisor for 36 years, she would still read medical journals about bacteriology.
Carol was born on June 6, 1937, in Buffalo, N.Y., the daughter of the late Theodore and Kathryn (Tappe) Fleschutz. Following high school in Wellsville, N.Y., Carol attended William Smith College, where she graduated in 1959 and later attended University of Washington where she was awarded a Masters in Bacteriology in 1963.   On Aug. 10, 1967, Carol married the love of her life, Jack Camp in New York, N.Y.  Carol is survived by her husband, Jack Camp of Sayre; brother and sister-in-law, Dr. Roger and Dorothy Fleschutz of Clarion, Pa.; and sister and brother-in-law, Kathy and George Johnston of St. Helena Island, S.C. Five nieces also survive.  Those who wish may remember Carol by sending a memorial to the Happy Tails Animal Shelter, PO Box 68, Towanda, Pa. 18848.
Eugene Raymond Latton
September 1, 1927 ~ August 23, 1972
Mary Ruth Mayer-Branigan
July 5, 1938 ~ February 21, 2000
MaryRuth (Mayer) Branigan,  February 21, 2000, age 61, beloved wife of Dr. Thomas S. Branigan; dear mother of Lisa M. Branigan of Buffalo, NY, Thomas Branigan of New York, NY, Kevin Branigan of New York, NY and C. David (Kathleen) Branigan of Dallas, TX; daughter of the late Evangeline (Gordon) Pflager; dear stepdaughter of the late Lawrence J. Pflager. The family will be present Wednesday, 2-4 and 7-9 PM, at the (Amherst Chapel) AMIGONE FUNERAL HOME INC., 5200 Sheridan Dr. (at Hopkins Rd.), where funeral services will be held Thursday at 8:45 AM and from St. Gregory the Great Church at 9:30 AM. Committal services will be held at Sacred Heart Cemetery, Wellsville, NY, at 2 PM. In lieu of flowers, family requests memorials to Roswell Park Memorial Institute. Published in the Buffalo News from Feb. 22 to Feb. 23, 2000
Helen Arlene Newland-McKay
June 4, 1937 ~ August 1985
Ellsworth Snyder
January 4, 1935 ~ May 1981
Diane Elizabeth Merrifield-Dinger
August 19, 1937 ~ October 18, 1996
Jean Marie O'Donnell-Baker
March 15, 1938 ~ September 27, 2004
Jean Marie O'Donnell Baker, of Weidrich Road, passed away on Monday September 27, 2004 in  Jones Memorial Hospital. She was born on March 15,1938 to Joseph A. and Mary Charlantini O'Donnell and on August 10,1957 in Wellsville she married A. Michael "Mickey"Baker who survives. Jean was a life long resident of Wellsville who graduated from the Immaculate Conception School and from Wellsville High School in 1955. After High School she was a secretary at Air Preheater and then took time to raise her family. She went to work for WLSV Radio and from 1991 to the present she was a secretary and receptionist for ARC in Wellsville. Jean had a strong zest for life and enjoyed looking after her children and grandchildren. She loved to cook, bake and play bridge with her friends. Jean was a life long member of the Immaculate Conception Church in Wellsville.
Surviving besides her husband and mother of Wellsville:2 sons Terrence [Rebecca K.] Baker of Akron and William Baker of Rochester; 2 daughters Mary Jo [Robert] Butler of Williamsville and Veronica [Russell] Lyons of Charlotte; 6 grandchildren a brother Patrick O'Donnell of Andover as well as several nieces, nephews and cousins.
Friends are invited to call on Thursday from 7-9 pm and on Friday from 2-4 & 7-9 pm in the J.W. Embser Sons Funeral Home in Wellsville. On Saturday a prayer service will be held in the Funeral Home at 10:30 am followed by a Mass of Christian Burial at 11 am in the Immaculate Conception Church with Father Dennis Wolf as Celebrant. Burial will be in Sacred Heart Cemetery and Memorials may be made to either the Allegany County ARC or the Immaculate Conception School.
Robert Clark Lippman
August 6, 1937 ~ January 14, 1993
Carol Sullivan-Penner-Swenson
March 5, 1937 ~ August 14, 2014
Carol Jane Penner Swenson, 77, was united with her Lord on August 14, 2014.  A funeral mass will be held at 10:00 a.m. at All Saints Catholic Church, 9300 Stonewall Road in Manassas, Virginia on August 27th, 2014.  Carol was a loving and dedicated wife, mother and friend. She was an active member of All Saints Catholic Church for over 40 years. In this Parish, she was involved in The RCIA program and the Eucharistic Ministry program for many years.  Carol enjoyed a long rewarding career as a medical assistant in various medical disciplines including allergy and nephrology. She will be fondly remembered by many patients and physicians for her genuine compassion and care.  She is survived by her sister Alice Waymire, eldest daughter and husband: Monica and Jim Neighbors of Culpeper Virginia and her youngest daughter Alison Sullivan of Fredericksburg, Virginia; five stepchildren, Tina Yowell, Lisa Swenson, Jean Paramonte, Chris Swenson and Kevin Swenson, 12 grandchildren and 5 great grandchildren. Carol is also survived by her loving friends Greg Shoemaker and his dear wife Kimberly of Bristow.  Donations in Carol's memory can be made to www.foodforthepoor.org.
Priscilla Wright Blaisdell-Perry
October 24, 1937 ~ July 25, 1993
Elaine Knapp-Housel
June 8, 1936 ~ April 8, 1995
Wilson "Bill" Layfield
October 26, 1935 ~ November 13, 2005
Nelson Starks
August 4, 1936 ~ March 20, 2008
James MacKenzie
Richard Riehl
Michael Murphy
1937 ~ December 19, 2015
Michael L. Murphy, age 79, passed away at his Presho home in the company of his family on Saturday (Dec. 19, 2015). He was the son of Daniel J. Murphy and Julia Caiger Murphy of Wellsville, N.Y. Mike is survived by his wife, Sally Leary Murphy and his three children, Shannon Murphy El Sokkary (Sherif), Sean Murphy (Rebecca) and Brian Murphy. He also leaves 6 grandchildren, Jacqueline and Anthony El Sokkary, Abigail and Kellan Murphy and Connor and McKenzie Murphy.  He is predeceased by his parents; brothers, Connell (Clara) Murphy, Danny (Linda) Murphy, Jimmy (Velda) Murphy; and sisters, Eileen Reott, Mona Iven and Shelia Murphy.   Mike attended Immaculate Conception School in Wellsville and Wellsville High School.  After service in the U.S. Navy
, Michael joined the NY State Police 1959. He was a trooper at the Painted Post barracks for most of his 20 year career. Following retirement, he worked for 13 years as a school bus driver for the Corning/Painted Post School District.  In his retirement, Mike pursued a variety of hobbies. He kept bees and sold honey and beeswax candles. Along with his wife and children, he earned his license to fly gliders at Harris Hill Gliderport. In the later years, he sailed and motor boated on local lakes with his wife and friends. He also rode a motorcycle, frequently enjoying a motorcycle ride to Wellsville for a Texas Hot and a visit with his hometown friends. Most recently he turned out beautiful wooden bowls on the lathe in the family wood shop.  For several winters, he and his wife trailered across the Country visiting friends, relatives and his daughter's family in California. The couple recently (2014) celebrated their 50th wedding anniversary.  Family and friends are invited to call at Carpenter-Flint Funeral Home, 10 Wall Street, Addison, N.Y. on Monday (Dec. 21, 2015) from 2 to 4 and 6 to 8 p.m. A Mass of Christian Burial will take place at Immaculate Heart of Mary Church, 115 East High Street, Painted Post on Tuesday at 11 a.m. Burial will take place at Sacred Heart Cemetery in Wellsville at the convenience of the family.  In lieu of flowers, the family would appreciate that donations be sent to the Cystic Fibrosis Foundation whose research has been helpful to Mike's granddaughter. The address is Cystic Fibrosis Foundation, Greater Rochester Chapter, 550 Latona Road, Bldg. D, Suite 408, Rochester, NY 14626. 
Published in Wellsville Daily Reporter on Dec. 19, 2015
Edward McCracken
September 1, 1937 ~ June 6, 2011
Edward G. McCracken Sr., 73, passed away peacefully Monday, June 6, at his Corvallis home, after a long battle with cancer.  Ed was born Sept. 1, 1937, in Wellsville, N.Y., to Kenneth Edward and Elizabeth Mary (Sprong) McCracken. At age 17, he was diagnosed with multiple sclerosis, and the doctors said that Ed would most likely never walk again, but after treatments and a strong will, he did walk and lead an active life. After graduating from Wellsville High School in 1955, Ed moved to Southern California, where he worked at Firestone, Lockheed Martin and National Life, earning top sales awards.  In 1962, while attending a church dance, he met his soon-to-be bride, Emilia; they were married on June 9. In 1963, they had their first son, Kenneth Gregory, and in 1965, had a second son, Edward "George" Jr. By 1967, the family moved to Oregon, and Ed began working for Allstate Insurance. Then in 1973, their daughter, Stephanie Jean, joined the family. During that same year, Ed started working for Truax Corporation, which began the next chapter of his career. Ed continued working with Truax, and retired in 2000. He was generously rewarded for all his years of service with an Alaskan cruise, fulfilling a longtime dream of touring Alaska. During retirement, Ed discovered the joy of woodworking. He built many custom pieces of furniture for family and friends. He also enjoyed computers and staying current with technology. Every morning, Ed liked to watch "Live with Regis and Kelly" while eating breakfast, and NASCAR on Sundays. Ed was a true Beaver Believer, following baseball, football and basketball as an armchair coach. Ed has deep roots in the fire department, starting back in Wellsville, where he served along with his father, brothers and uncles. For many years, Ed proudly volunteered with the Sweet Home and Corvallis fire departments on the ladder truck and search and rescue crews. Ed is survived by his wife of 49 years, Emilia; son, Greg of Phoenix, Ariz.; daughter, Stephanie of Forest Grove; brothers, Bob of Wellsville and Skip of Orlando, Fla.; and sister, Carole Wells of Allentown, N.Y. He was preceded in death by his son, George; father, Kenneth; and mother, Elizabeth. A funeral Mass and reception will take place at 11 a.m. Monday, June 13, at St. Mary's Catholic Church in Corvallis, celebrated by Father John Henderson. A private interment will follow. Memorial contributions can be made to St. Mary's Perpetual Adoration Chapel or Samaritan Evergreen Hospice of Albany.
James Lee Ludden
June 15, 1936 ~ February 16, 2003
Marlene Ann Madden-McDowell
November 9, 1937 ~ October 4, 1991
Earle William "Bill" Dickinson
August 9, 1937 ~ December 19, 1999
James Glenn Covel
May 13, 1937 ~ June 28, 1994
Linda Lucille Crandell-Wood
August 9, 1937 ~ March 11, 1989
Marlene Day-Liller
July 21, 1936 ~ June 28, 2005
David Harder Mitchell
May 22, 1937 ~ October 2, 2013
David Harder Mitchell, 76, of Cordillera, formerly of New Canaan and Greenwich, Conn., passed away peacefully in his home Tuesday with Ellen, his loving wife of almost 21 years, and devoted dog, Hana, by his side. His passing was the final chapter in his courageous 14-year journey with multiple myeloma, cancer of the bone marrow. Those lucky enough to know Dave enjoyed his generosity, love of life, positive attitude and will sorely miss his wry sense of humor. He was an inspiration to all who knew him.  Dave was the son of the late Montgomery Eveland Mitchell and Rebea Jean (Harder) Mitchell. Born May 22, 1937, in Wellsville, N.Y., Dave developed a love of sports and the great outdoors with his brother Dick, his best friend, mentor and companion in boyhood mischief. He graduated from Wellsville High School in 1955, where he served as captain of the wrestling and football teams. With highest honors, Dave attained both a BS (Lehigh University, 1959) and MS (State University of New York — Syracuse) in mechanical engineering. At Lehigh, he was president of the Theta Chi Fraternity.  He had a successful 34-year career at IBM Corporation, beginning as an engineer based in Endicott, N.Y., working on leading edge technology for the mainframe computers, before continuing in various management and executive positions. Upon retiring for IBM, Dave had a very successful consulting business for five years, assisting both private and public sector clients. Dave and his first wife, Susanne (Cantley) Cox, have three children, Pam, Brad and Ken, with whom they shared their love of skiing, tennis, the great outdoors and their grandchildren. While life took Dave and Sue down separate paths after their children were grown, they continued to share a strong, united commitment to their family.  In 1992, Dave married Ellen Earley in Greenwich, Conn. As they finished their careers, they found the perfect retirement spot and built a home in Cordillera, moving in September 1999 at the same time Dave was first diagnosed. Despite this health challenge, Dave embraced life and his desire to give back to the community. For a decade, Dave and Ellen were mentors to two brothers in the Vail Valley. Dave was the chair of both the Cordillera Design Review Board and Vail Gondola Club among other community volunteer activities, where he focused on better protecting Cordillera's beautiful environment.  Throughout his life, Dave continually challenged himself through his love of the outdoors. He climbed Mount Rainier and The Grand in the Tetons, as well as nearly achieving the summit of the Matterhorn for his 50th birthday before weather forced him to abort the ascent. He was a proud finisher of 13 marathons including New York and Boston, as well as completing numerous century (100-mile) bike rides. After a 25-year hiatus, Dave again took up golf and enjoyed every minute he played with his Blue Tee group of friends. He was most proud that he skied for 73 consecutive years and passed on his love of the sport to his children, grandchildren, nieces and nephews.  The family wishes to thank Dr. Alexander Urquhart, Katie Jones and the staff at the Shaw Regional Cancer Center for all of their support, Lindsey Bolduc of Hospice of the Valley for her compassionate care and our dear friends at the Cordillera Metro District.  Survivors include wife Ellen Mitchell, of Cordillera; daughter Pamela (Richard) Trainer, of Ludlow, Vt.; sons D. Bradley (Elizabeth) Mitchell, of Allentown, Pa., and Kenneth (Elizabeth) Mitchell, of Warwick, N.Y.; five grandchildren, Kathryn, Margaret and Elizabeth Mitchell, Myles and Quinn Trainer; former wife Susanne Mitchell Cox, of Bluffton, S.C.; and sister Constance Madera, of Moorestown, N.J. He was predeceased by his brothers, George Montgomery Mitchell and Richard L. Mitchell.  A memorial service will be held at the Beaver Creek Chapel on Nov. 1 at 11 a.m. In lieu of flowers, memorial contributions would be appreciated to: Shaw Regional Cancer Center, P.O. Box 2559, Edwards, CO 81632; Hospice of the Valley, P.O. Box 1474, Edwards, CO 81632; Richard L. and David H. Mitchell Scholarship- Lehigh University, 27 Memorial Drive, Bethlehem, PA 18015.
Gail Anicia Grantier-Novak
December 7, 1937 ~ January 1983
Shirley Ann Murray
March 24, 1936 ~ June 26, 1983