---
Class of 1932 In Memoriam
---
John E. Nydegger
February 15, 1914 ~ July 3, 2014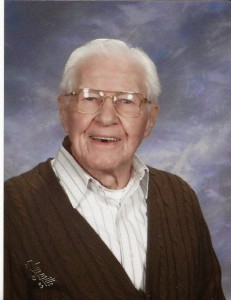 John E. Nydegger, age 100, of Hill Street passed away on Thursday, July 3, 2014  at the Wellsville Manor Care Center. He was born in Wellsville on February 15, 1914 to Ernest and Susie Deschler Nydegger. On June 24, 1940 in Wellsville he married Virginia A. Ennis who predeceased him on February 16, 2002.  John was a lifelong resident of Wellsville who graduated from Wellsville High School in 1932. He entered the US Navy in 1942 and served throughout World War II and was honorably discharged in 1946. After the war John went to work for the former Scoville Brown Whole Sale Grocery Company in Wellsville. He was the store's treasurer and worked for them for 22 years. He then went to work for the Former First Trust Union Bank in Wellsville from where he retired from in 1979 after 12 years of service. John was a lifelong member of the First Trinity Lutheran Church in Wellsville. He was a very active member of his church serving on the finance board, a member of the Men's Club, Senior Citizens and sang in the men's chorus and choir. John was a member and past treasurer of the Wellsville Rod and Gun Club and also sang in the Apollo Club.  Survivors include 2 sons, John E. Nydegger of Estes Park, Colorado and Richard (Darlene) Nydegger of Wellsville; 2 daughters, Suzanne Nydegger of Wellsville and Mary Kay (Tom) Schrider of Columbus, Ohio; 9 grandchildren and 10 great grand children; several nieces and nephews.  John was predeceased by his parents, his wife and a sister, Doris Lehman.  Friends are invited to attend a memorial service on Saturday, July 5, 2014, at 11 am in the First Trinity Lutheran Church of Wellsville with Pastor Robert Morris presiding. Memorials in John's name may be given to the First Trinity Lutheran Church of Wellsville.
---
Walter B. Shine
October 10, 1914 ~ June 2, 2005
---
Helena O'Hara Sawyer
February 24, 1915 ~ December 17, 2008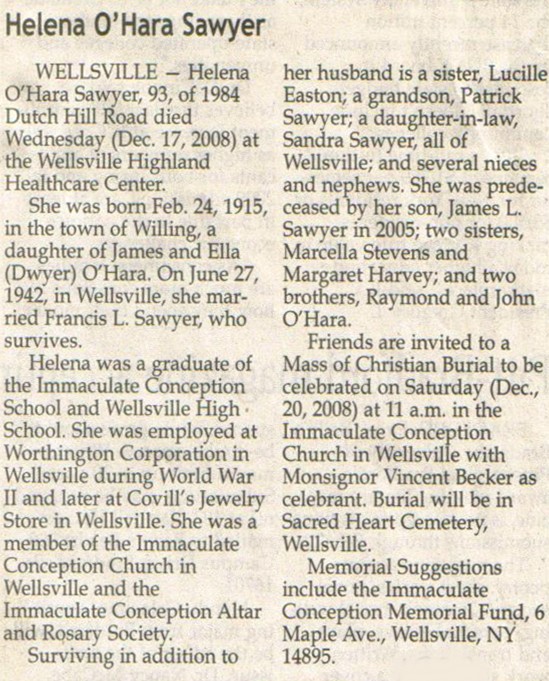 ---
Genevieve Martin-Perry
May 9, 1916 ~ February 7, 2011
---
Rosamond Clark-Stuck
November 14, 1908 ~ January 18, 1968
---
Esther Bierman-Spowart-Sinkey
January 2, 1915 ~ August 30, 1992
---
Mildred Teller-Cleveland
March 3, 1913 ~ November 21, 2008
---
June Roehler-Dye
December 26, 1915 ~ July 5, 1998
---
Alice Colby-Burger
November 27, 1912 ~ June 8, 2000
---
Alfred Carl Gent
November 11, 1914 ~ July 2, 1994
---
James Richard Farley
May 14, 1912 ~ March 28, 2002
James Richard Farley, 89, of Deer Park, died March 28, 2002. He was born May 15, 1912 in Wellsville, New York, to James M. and Ann E. (Meade) Farley. Mr. Farley was preceded in death by his wife, Margaret May Farley and he is survived by his children, Mary M. Wilson, Patricia A. Gay, Janet D. Hill and husband, James "Sam," Barbara Jean Holcomb and husband, Billy, Sandria Phillips and husband, Terry, Daniel Farley, and Paula T. Cedars and husband, Daniel; 21 grandchildren, 19 great-grandchildren, and 15 great-great-grandchildren. Rosary was recited by Father Richard E. Barker and held at 7:00 p.m., Sunday, March 31, 2002 at the Paul U. Lee Chapel. The funeral mass was held at 2:00 p.m., Monday, April 1, 2002 at St. Hyacinth Catholic Church in Deer Park and was officiated by Father Richard E. Barker. Internment was held at the Bethany Cemetery in Pasadena.
---
Mary Costello-Baker
November 22, 1915 ~ April 11, 2013
---
Lawrence Elwin Corwin
August 8, 1912 ~ September 8, 1991
---
Helen Irene Cornwell-Shear
September 1, 1914 ~ February 25, 2009
Helen Cornwell Shear passed away Wednesday (Feb. 25, 2009) at home. She was born Sept. 1, 1914, on a Cherokee Indian reservation near Chelsea, Okla., where her father, Arthur L.Cornwell, was in the oil business. Mr. Cornwell founded C & G Wheel Puller, which was later renamed Hydramec, Inc. His father, Daniel Eli Cornwell, was a Civil War veteran. Helen's mother, Mabel Williams Cornwell, was the daughter of Henry Williams, the founder of Williams Store in Stannards.  While Helen was still an infant, the Cornwells returned to Wellsville, where they bought a house on Chestnut Street. Helen attended Martin Street School and Wellsville High School. She then attended and graduated with a bachelor of fine arts from Syracuse University. While at Syracuse, she was a member and past president of Pi Beta Phi, was on the Junior Executive Committee and was a member of her departmental honorary. Following graduation, Helen worked as an art teacher in Oswego. While there, she was a member of the Women's City Club and AAUW.  She then returned to Wellsville from Oswego to marry A. Norbert Shear, who was vice president of C & G Wheel Puller company (now Hydramec, Inc.). C & G Wheel Puller moved from Wellsville to a larger plant in Scio in 1940 and in the same year, Helen and Norb moved to a home adjacent to the company, where they lived for 14 years. Norb Shear became president of C & G after Mr. Cornwell's death in 1948. Helen served as treasurer of the company and also worked in the drafting department over several years, particularly during the war years.  Before her first child was born, Helen substituted as a teacher at Wellsville High School, instructing students in art and mechanical drawing. She became a member of the local chapter of AAUW, Hemlock Twig and The Monday Club as well as a member of the golf and ladies bridge clubs at the Wellsville Country Club. She remained a member of these clubs throughout the remainder of her life.  The couple relocated back to Wellsville in 1955, purchasing a house at 393 N. Main St., where they lived for 50 years and where Helen took great pleasure in her wild flower garden, rose garden and her perennial borders. Throughout her life, she was continually interested in bird life and belonged to the county bird club.  Helen and Norb traveled extensively both in this country and internationally. Helen was especially interested in Egypt, which she and Norb visited several times. Helen wrote three books based on Egyptian history, the first of which was copyrighted in 1985.  She continued to paint for most of her life. She taught local painting classes and took lessons in life drawing as late as 2004 in SaddleBrooke in Arizona. She and her husband owned a trout-fishing cabin with friends on Kettle Creek in Pennsylvania, where she enjoyed painting oil portraits and landscapes as well as hiking and entertaining family and friends. They often spoke of their happy years there.  Helen and Norb spent several months of each winter in Florida, for the most part at the former Key Biscayne Hotel in Key Biscayne, Fla., where they rented a villa. Later, they rented a condominium on the ocean in Naples, Fla., where they spent many happy, active years.  Helen is survived by all of her children, Constance (John)?Sparbel of Carson City, Nev. and Tuscon, Ariz., Marcea (Robert)Rundquist of Northampton, Mass. and Gregg Shear of Wellsville; her four grandchildren, Sarah (Rundquist)?Reeves, Ann (Rundquist) Gottert, Hillary Shear and Brett Shear; nieces and nephews; and many friends. She was predeceased by her husband in 1998; her grandparents (all of whom she remembered well); her parents; and a sister, Marie Cornwell Grastorf.  In lieu of flowers, donations may be made to the David A. Howe Public Library in Wellsville.
---
Yvonne Stannard-Babcock-Rowland
May 22, 1913 ~ May 20, 1962
---
Marjorie Steenwerth-Ruoff-Hanneman
September 5, 1912 ~ November 24, 2009
Birth: Sep. 5, 1912, Jefferson County New York, USA.  Death: Nov. 24, 2009, Annapolis, Anne Arundel County
Maryland, USA . Marjorie Marie Steenwerth-Hanneman, 97, a resident of Annapolis Junction for 56 years and previously of Wellsville, N.Y., died of natural causes Nov. 24, at her residence.  Marjorie was born Sept. 5, 1912, in Ward, N.Y. She received a B.S. in Education in 1937 from University of New York at Buffalo, and Masters in Education in the 1940s from Alfred University.  She began teaching in upstate New York in 1937, grades 1 through 8, in a one-room school house. She also taught in several Anne Arundel schools for over 25 years, retiring in 1980 from Pershing Hill Elementary after a total of 43 years of teaching.  Marjorie was awarded Lifetime Member in the Gifted and Talented Program for teaching in the State of Maryland, and Golden Sheaf for 50 years continuous membership in the National Grange.  She was a member of First Evangelical Lutheran Church for over 55 years, Treasurer of the Ladies Auxiliary for over 20 years, C.A.P. Food Pantry Rep. for First Evangelical Lutheran Church in the 1980s and 1990s–she started the food pantry at the church. She was also a volunteer for LMS in Annapolis for over ten years, managed the Ladies Auxiliary Bake Table for church bazaars for several years, and was a member of the Jessup Women's club.  Marjorie enjoyed cooking and baking, arts and crafts, and dancing. She was a seamstress, an avid reader, and wildlife enthusiast (she faithfully watched and fed birds, squirrels, rabbits, deer). She was a serious Baltimore sports fan, and enjoyed spending time with all generations of her family.  She was preceded in death by her husband, William H. Hanneman, whom she married June 26, 1953 and who died Nov. 17, 1997; and her sister, Victoria Sheldon.  She is survived by son, Paul H. Hanneman and his wife Beth E. Hanneman of Stevensville; daughter, Vicki Lynn Wallace and her husband Kevin F. Wallace of Derby, England; five grandchildren, Melissa Brown, Amy Hanneman, Justin Hanneman, Gabriel Wallace and Dakota Wallace; six great-grandchildren; sister-in-law, Eva Hanneman of Sayre, Pa.  Interment will be in Maryland Veterans Cemetery Crownsville.  Memorial contributions may be made to First Evangelical Lutheran Church.
---
Marian Austin-Ager
August 28, 1912 ~ June 2, 1989
---
Marian O'Connor-McGinnis
December 13, 1914 ~ April 15, 2003
Marion O. McGinnis of Palatine since 1965 Services for Marion O. McGinnis (nee O'Connor), 88, formerly of Lockport, Ill., will be private. Born Dec. 13, 1914, in Wellsville, N.Y., she died Tuesday, April 15, 2003. Interment will be private. Mrs. McGinnis was a former Lockport Township librarian and Palatine High School librarian. She was the beloved wife of the late J. Raymond McGinnis; loving mother of Kathleen (Terry) Gellinger and Rosemary (Robert) Doherty; dear grandmother of Laura, Michael, Amy, Jeffrey and Brian; and great-grandmother of Tyler, Tripp, Kendall, Carley, Kylie and Nicholas. In lieu of flowers, memorials may be made to Catholic Charities, 126 N. Des Plaines St., Chicago, IL 60606; or Vitas Hospice, 580 Waters Edge, Lombard, IL 60148.
---
Ormand J. Brundage
January 18, 1913 ~ June 6, 1996
---
Lena Cornelius-Cummings
February 2, 1915 ~ May 13, 1996
---
Carlos Starr
May 26, 1910 ~ February 14, 2004
---
Martha Jane Prior-McIntyre
December 12, 1914 ~ September 11, 1995
---
Paul Sullivan
---
Iva Elizabeth Sadler-Saunders
August 18, 1913 ~ September 12, 2002
Iva E. Saunders, 89, of East Lake Road, Honeoye, formerly of Wellsville, died Sept. 21, 2002 at F. F. Thompson Continuing Care Center in Canandaigua. She was born the daughter of William and Esther Jacox Sadler on Aug. 18, 1913 in Alfred, N.Y. She was a retiree of the Wellsville Cable Company in Wellsville where she was a bookkeeper. She was predeceased by her husband of 64 year Arthur Saunders. She is survived by her children, Robert (Celeste) Saunders of Lima, William (Betty) Saunders of Wellsville, Joan (Terrance) Donahue of Henrietta, Linda (Robert) Rice of Bristol; several grandchildren and great grandchildren; sister Margaret Moynihan of Wellsville; several nieces and nephews. Friends called Tuesday at the Kevin W. Dougherty Funeral Home, Inc., 8796 Briggs St. in Honeoye where her funeral service was held following calling hours. Burial, Lakeview Cemetery in Honeoye. In lieu of flowers memorial contributions may be made to the Richmond Ambulance Fund, Honeoye NY 14471.
---
Letitia Catherine Debarbieri-Parron
December 1, 1913 ~ October 23, 2006
PARRON , Letitia C. On October 23, 2006, LETITIA C. (nee DeBarbieri) dear mother of David Richard, William, John, thomas and Michael, mother-in-law of Rosemary, Mary Lou, Mary Ellen, Joan, Marcia and Joan. Also survived by 13 grandchildren and ten great-grandchildren.  Visiting hours at Kaczorowski Funeral Home, P.A., 1201 Dundalk Avenue on Thursday 2 to 4 and 6 to 8 P.M. Prayers on Thursday evening at 7:30 P.M. Further services will be private.
---
Kenneth Earl Chalker
November 2, 1907 ~ August 28, 1981
---
Francis Clare "Frank" Fagan
March 2, 1914 ~ April 1, 1988
---
Cameron Howell
---
Mona Cochran-Tompkins
August 2, 1914 ~ April 22, 1995
---
Sherman Cross
May 18, 1912 ~ January 3, 1980
---
Shirley Horn-Ambroselli
January 2, 1914 ~ August 17, 2000
---
Anne Margaret Wormley-Ahl
February 6, 1914 ~ August 1985
---
Edward McLaughlin
July 28, 1914 ~ May 1979
---
Florence Sawyer-Evans-Teater
June 21, 1912 ~ March 29, 2004
---
Mary Daley-Lynch
February 11, 1914 ~ February 13, 2008
Mary Daily Lynch, 93, a former long time resident of Wellsville died February 13, 2008 in Colorado, where she resided since 1965. She was born February 22, 1914 the daughter of Jeremiah and Margaret (Carey) Daley. On November 22, 1969 in Wellsville she married J. Vincent Lynch who predeceased her on July 19, 1991.  Mary was a former member and organist of the Immaculate Conception Church in Wellsville for many years. She was a member of the Legion of Mary and mentor for the Junior Legion of Mary.  Friends are invited to a Mass in her memory on Thursday April 10, 2008 at 8:00 am in the Chapel of the Immaculate Conception Church in Wellsville with Monsignor Vincent Becker as Celebrant. Burial will be Sacred Heart Cemetery. Memorial suggestions include the Immaculate Conception Memorial Fund % 6 Maple Avenue Wellsville, NY 14895.
---
Gladys Carlin-McBride
December 31, 1911 ~ March 5, 2000
---
Roberta Callaghan
April 20, 1917 ~ December 26, 1983
---
Helena Ives-Euken
April 12, 1915 ~ April 1995
---
Barbara Elizabeth Miller-Arnold
December 21, 1912 ~ November 2, 1985
---
Charles Hylan
---
Barbara Whitford-Underwood
May 9, 1914 ~ October 5, 2000
---
Claude Durban
 July 15, 1913 ~ December 1983
---
Edith Beverly Walther-Lake
February 13, 1916 ~ January 9, 1997
---
Mary Frances Ryan-Cunningham
August 21, 1913 ~ January 25, 1994
---
Howard Everett Piper Jr.
September 9, 1913 ~ July 6, 1978
---
Theodore Engelder
October 2, 1912 ~ May 11, 1999
---
Anne Rita Ryan-Scanlon
Rita Scanlan, Born in Port Allegany, PA on Aug. 27, 1915.  Departed on Mar. 17, 2010 and resided in Ambler, PA. Visitation: Tuesday, Mar. 23, 2010   09:00 am – 10:00 am.  Funeral Mass: Tuesday, Mar. 23, 2010  10:00 am Funeral Mass: Thursday, Mar. 25, 2010,  10:00 am Cemetery: St. Elizabeth Cemetery.  Anne Rita Ryan Scanlan, 94, a long time resident of Colegrove, McKean County, Pennsylvania, passed away  peacefully at her daughter Rosemary's home in Ambler, PA on March 17, 2010. She was preceeded in death by her husband Nicholas William Scanlan.  Rita was born in Port Allegany, PA on August 27, 1915, the daughter of the late William Patrick and Bridgid Josephine Fitzstephens Ryan, the second of their three children. Her father was a professional baseball player, a catcher in the minor leagues, and a hotelier. He introduced her to many early baseball legends and entertainment stars of the era.  Her mother immigrated to the United States from Foxford, County Mayo, Ireland by ship as a child in 1900.  Rita was an exceptional student and in her years of elementary and secondary education in Olean and Wellsville, New York, respectively, skipped grades and, upon high school graduation, attained the highest scores ever recorded on the New York State Regents Exams. She graduated Magna Cum Laude from Villa Maria College in Erie, PA with a double major degree in French and mathematics.  While in college she met Nick Scanlan, also a student in Erie at Gannon College. He was an  accomplished amateur pugilist and aviator. They were married July 1, 1940 in Wellsville, NY. During WWII the young couple resided at various air bases across the U.S. where her now Army Air Corps Captain husband had been assigned as a flight instructor to new cadets. After the war they returned to the home in Colegrove where they raised their family. Nick operated the Smethport Garage Company , an automobile dealership, in Smethport, PA until his death in 1972.  Rita was a substitute teacher at the Smethport Area Jr.-Sr. High School often teaching French and Latin for 17 years until her retirement at age 78.  She enjoyed portrait sketching, her yard full of perennial flowers and shrubs, and the many cats and dogs she loved over the years.  She was politically astute and an obstinate life-long Democrat in a county overwhelmed with Republicans, including her husband. She was strong-willed and did not hesitate to voice her opinion.  Rita did a great deal of community outreach, helping the elderly and needy. She was proud of her Irish heritage and often exhibited her great wit and gift for gab. She was fortunate enough to make a pilgrimage to her parent's homeland In her later years and even kiss the Blarney Stone. And as the luck of the Irish would have it, she passed away on St. Patrick's Day. She was a member of St. Joseph Catholic Church in Ambler, PA, St. Elizabeths of Hungary in Smethport, PA, Catholic Daughters of America, McKean County Historical Society where she served as Vice President, and was  also a CCD Teacher at St. Elizabeth Church in Smethport, PA. She is survived by her seven children: Colleen Anne McClay (William) of Drexel Hill, PA; Michael James Scanlan (Margaret) of Golden, CO; Dennis Eugene Scanlan of Boise, Idaho; Marie Louise Anderson (Samuel) of Wallingford, PA; Brian Christopher Scanlan of Drexel Hill, PA; Rosemary Jacob (Neil) of Ambler, PA; Jane Rita Scanlan of  Melbourne, FL; nine grandchildren and fourteen great-grandchildren. She was pre-deceased by her brother William Stephen Ryan and her sister Mary Frances Cunningham. In lieu of flowers donations may be made in her name to St. Jude Children's Research Hospital, P.O. Box 1000 Dept. 142, Memphis, TN 38148
---
Mary Elizabeth Church-McDonald
August 23, 1914 ~ June 11, 1948
---
Leona Marguerite Hadba-Vialpando
February 20, 1915 ~ November 25, 1981
from 1937 Alfred Kanakadea
---
Marguerite Adeline Neu-Hepker
November 24, 1915 ~ March 29, 2003
from 1937 Alfred Kanakadea
---
Stuart Leslie Cross
May 18, 1912 ~ May 1, 1964
---
Maurice Richard Potter
October 9, 1911 ~ February 6, 1991
---
Raymond McGinnis
---
Robert Benedick Dolan
October 22, 1914 ~ May 3, 1991
---